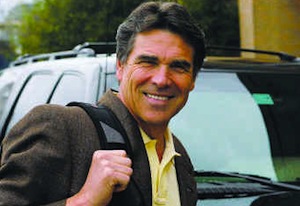 While people tend to admire politicians who are able to speak bluntly and off the cuff, it seems that's a quality that's been working against Texas governor and GOP presidential hopeful Rick Perry and, as NPR's "It's All Politics" blog points out, it could work for Perry's opponents — at least in terms of offering them fodder for smear ads.
Not only did his recent comments about Ben Bernanke and Barack Obama create headlines and court controversy, but it would appear that a few less than flattering moments from the Governor's past are now resurfacing.
There is, in particular, a video from 2000 showing Perry, then Texas' lieutenant governor, apparently trying to convince a police officer not to give his aide a speeding ticket, asking the trooper "Why don't you just let us get on down the road?":
And then there's footage (which you might have seen before) of Perry giving me my new catch phrase for the weekend after growing upset at a reporter. (He would later apologize for this remark and refer to it as "inappropriate banter.")
The Texas Tribune offers another example:
One more, from Iowa, but from another political race. The governor of Texas, campaigning for the former mayor of New York City, Rudy Giuliani, was at a private reception at someone's house when he was asked about the 43rd president of the United States.

"Let me tell you something. George Bush was never a fiscal conservative, never was," Perry said, then added, "I mean, '95, '97, '99, George Bush was spending money."

Perry has said that was the incident that showed him the power of YouTube and of the video cameras that everyone seems to have constantly at the ready. It was supposed to be private; it wasn't. It was also a moment that showed him — or should have — the close attention that comes with the presidential trail.
What do you think, though: Do Perry's comments make him more personable? Do you agree with his critics that they don't make him seem "presidential"?
h/t The Texas Tribune and It's All Politics
Have a tip we should know? tips@mediaite.com