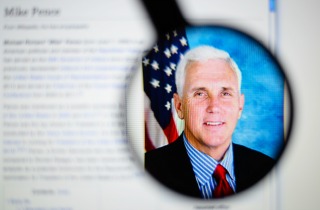 Indiana Gov. Mike Pence (R) will reportedly start a state-run, taxpayer-funded news service that will provide real Indiana news outlets with pre-written stories and information. The Indianapolis Star broke the news on Monday, citing documents obtained by the newspaper.
The news agency will be called "Just IN," and will launch in late February. It will feature stories written by state press secretaries and will be headed by former Indianapolis Star reporter Bill McCleery.
"At times, 'Just IN' will break news — publishing information ahead of any other news outlet. Strategies for determining how and when to give priority to such 'exclusive' coverage remain under discussion," according to a Q&A sheet obtained by the newspaper that was distributed to statewide news agency communications directors. In other words, "Just IN" will compete with the actual Indiana press.
Stories will reportedly "range from straightforward news to lighter features, including personality profiles." Some, though, aren't convinced of the soon-to-be state-run news agency's merits.
"I think it's a ludicrous idea," Jack Ronald, publisher of the Portland Commercial Review, told the Indianapolis Star. "I have no problem with public information services — the Purdue University agriculture extension service does a great job. But the notion of elected officials presenting material that will inevitably have a pro-administration point of view is antithetical to the idea of an independent press."
The cost to taxpayers is thus far unknown, and a Pence spokeswoman declined to comment. Pence, a Republican, is said to be considering a run for president in 2016.
[h/t TPM]
[Image via Shutterstock]
— —
>>Follow Andrew Desiderio (@forza_desiderio) on Twitter
Have a tip we should know? tips@mediaite.com