Graham Slams GOPs 'Irrational' Obama Dislike: 40% Still Think He's 'a Kenyan-Born Muslim'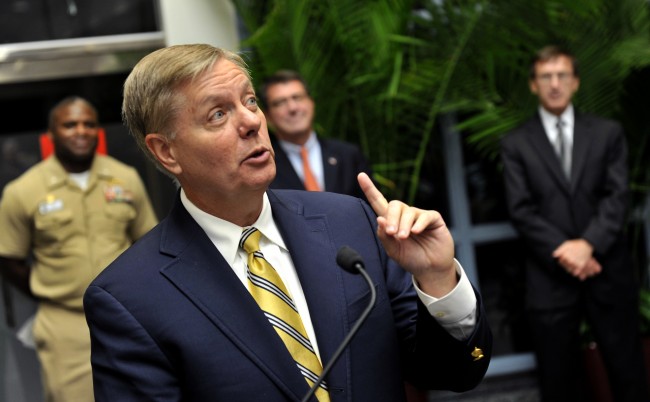 Sen. Lindsey Graham Friday knocked the GOP's "visceral" "dislike of President [Barack] Obama" during an interview on Boston Herald Radio.
"Well there's about 40 percent of the Republican primary voter who believes that Obama was born in Kenya and is a Muslim," Graham said, adding "there's just a dislike for President Obama that is visceral. It's almost irrational."
Graham noted the Republican party is "not gonna win 270 electoral votes if you don't grow the vote with the Hispanic community."
"[Republican presidential candidate Donald Trump] has the worst numbers of any Republican with Hispanics by far, because he demonizes illegal immigrants and many illegal immigrants have U.S. citizen relatives," Graham said, promising "Hillary Clinton will clean his clock" if they battle each other in the general election.
Graham said Trump "can't grow this party" because the candidate "represents a level of intolerance and sort of cartoon policy that wont sell."
"People feel like he's being strong in the face of a weak Obama," Graham continued. "That he's gonna be decisive, and at the end of the day most people who are listening to Mr. Trump believe that what he offers us makes us safer."
"I'm here to tell you that from my experience it makes us less safe," Graham added. "And we're gonna lose an election badly if we nominate somebody with Mr. Trump's approach to governance and the country as a whole."
[h/t Buzzfeed]
[Image via Wikimedia Commons]
—
>> Follow Elizabeth Preza on Twitter (@lizacisms)
Have a tip we should know? tips@mediaite.com