'Grandma the Clown' Performer Resigns After Report He Pressured Teen Into Taking Porn Photos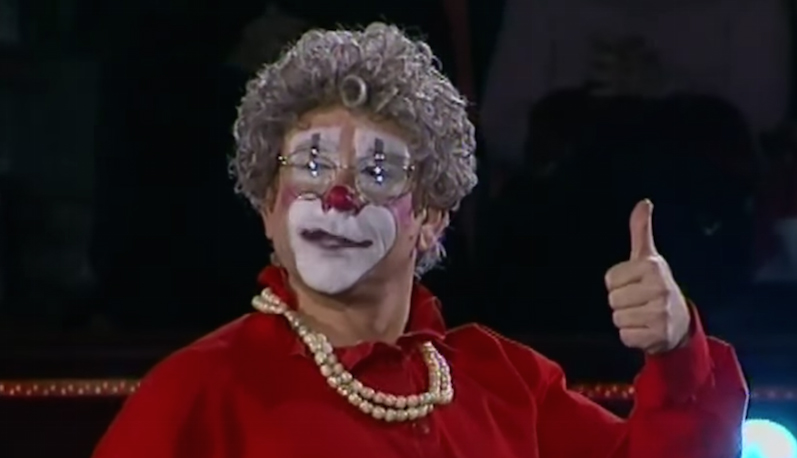 If you live in New York City, you've no doubt seen the subway ads for the Big Apple Circus, featuring the renowned "Grandma the Clown." Well, that clown is no grandma. It's actually a guy named Barry Lubin and he just stepped down from the circus after being accused of pressuring a 16-year-old girl into allowing him to take pornographic pictures.
The victim is named Zoey Dunne and she says the incident occurred in 2004, as she auditioned for a role as an aerialist in the world-renowned circus. Lubin offered her a starting position with one of the circus's mini-troupes, but this was contingent on her participating in a project for his "personal photography business."
You can guess what happened next. Lubin pressured 16-year-old Dunne into taking lewd photos, featuring the girl in a thong after she refused to get completely naked. Afterwards, he gave her $100 and told her not to inform the circus. Later, he "insisted" upon a similar photo session which followed a similar pattern.
Lubin has admitted his wrongdoing, with the New York Times releasing a statement through his lawyer.
"The allegations are true. What I did was wrong, and I take full responsibility for my actions," the statement read. "I not only failed Ms. Phillips [Dunne's maiden name], but I also failed in my responsibility as a man, an adult, a father, and as a representative of the Big Apple Circus."
Dunne's father expressed disbelief that such a friendly-seeming entertainer could commit such a heinous act, even comparing Lubin to Bill Cosby.
"He's the friendly grandma, how could he harm you? It's like Bill Cosby," he said. "He's not the character he plays."
[image via screenshot]
—
Follow Lawrence Bonk (@sidescrollers) on Twitter
Have a tip we should know? tips@mediaite.com