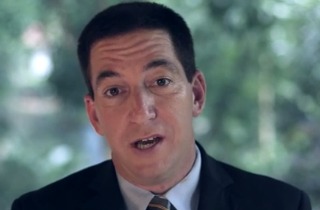 A Sunday Times report on China and Russia maybe possibly accessing all of the documents Edward Snowden obtained really set off Glenn Greenwald, who's been ripping into their "shoddy" journalism since yesterday.
The Times front-page report is headlined "British spies betrayed to Russians and Chinese," and cites anonymous UK government officials claiming that not only did both nations crack Snowden's document stash, but as a result they've had to "pull agents out of live operations in hostile countries." The phrase "blood on his hands" was used at one point.
Missing from this report was skepticism about the official government line, and that's what really set Greenwald off. His Intercept article yesterday really ripped into the report for exemplifying the worst and shoddiest journalism. He wrote, "It reads like a parody I might quickly whip up in order to illustrate the core sickness of Western journalism."
And that was the tame part:
By definition, authoritarians reflexively believe official claims — no matter how dubious or obviously self-serving, even when made while hiding behind anonymity — because that's how their submission functions. Journalists who practice this sort of primitive reporting — I uncritically print what government officials tell me, and give them anonymity so they have no accountability for any it [sic] — do so out of a similar authoritarianism, or uber-nationalism, or laziness, or careerism. Whatever the motives, the results are the same: government officials know they can propagandize the public at any time because subservient journalists will give them anonymity to do so and will uncritically disseminate and accept their claims.
In addition, he says the report is clearly based on easily checkable lies, seeing as how Snowden said he took nothing with him when he left Hong Kong. Also, they claimed that Greenwald's boyfriend David Miranda visited Snowden in Moscow before he was arrested at Heathrow Airport in possession of intelligence documents.
Except that he didn't actually visit Snowden.
The Times quietly removed that line, but Greenwald still noticed and called them out on it. (They plan to print a full retraction in next Sunday's edition.)
The author of that Times story gave an interview on CNN today, which contained one exchange that absolutely blew Greenwald away:
This is the verbatim *defense of @TheSundayTimes for their now totally discredited story. Snowed some journalists… https://t.co/g7VfuOetGn

— Glenn Greenwald (@ggreenwald) June 15, 2015
The motto of @TheSundayTimes, on eternal Vine loop https://t.co/2WDO7IjN66

— Glenn Greenwald (@ggreenwald) June 15, 2015
You can watch that interview here, via CNN:
[image via screengrab]
— —
Follow Josh Feldman on Twitter: @feldmaniac
Have a tip we should know? tips@mediaite.com
Josh Feldman - Senior Editor