Greta Doesn't Buy Stelter's Explanation for Wolf Blitzer Tweet: 'Utter Disrespect'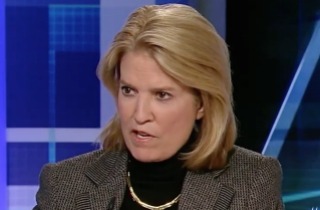 Earlier today, CNN's Brian Stelter made a little screw-up on Twitter when he tweeted out "ugh wolf is the worst," in reference to Wolf Blitzer. Stelter explained it was tweeted erroneously and he was simply copying something that someone else told him in a Twitter DM.
Innocent mistake, right?
Well, not to Fox News' Greta Van Susteren. She wrote on her Gretawire blog tonight asking where Stelter gets the nerve to take a shot at his colleague like that.
Van Susteren doesn't buy his "terrible excuse" and thinks he honestly meant it. She writes:
This CNN Brian Stelter tweet is pathetic and is embarrassing to CNN. It is also extremely disrespectful to his colleague, CNN's Wolf Blitzer.

Stelter is arrogant and I might add, has limited experience. He doesn't come close to Wolf's experience and judgment and dares to tweets this about Wolf. Stelter travels from DC to NYC and back…and reads the internet. Wolf has criss crossed the world and interviewed world leaders.
Van Susteren, who used to work at CNN before coming to Fox, called Blitzer "a gracious competitor and gracious colleague." And, she added, "Even if it were true, why was he cutting and pasting this trash? This shows an utter disrespect."
UPDATE — Sat., June 27, 12:20 p.m. ET: Stelter responded this morning:
@greta your 6 words "I am assuming it is accurate" illustrate all that is wrong with modern media. I may be young, but I know not to assume.

— Brian Stelter (@brianstelter) June 27, 2015
[image via screengrab]
— —
Follow Josh Feldman on Twitter: @feldmaniac
Have a tip we should know? tips@mediaite.com
Josh Feldman - Senior Editor