Greta Van Susteren Calls Tucker Carlson A 'Pig' Over 'Disgusting Post' On The Daily Caller [Updated]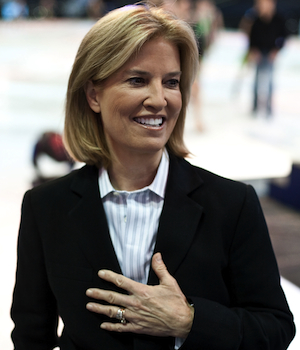 On Sunday, Greta Van Susteren harshly criticized Tucker Carlson for an explicit headline on his blog, The Daily Caller, which referred to Mike Tyson's controversial comments about Sarah Palin. Susteren branded Carlson a "pig", for publishing the "disgusting post" and characterized it as "not just smut," but "violence against women."
In a seething 900-word blog post, Van Susteren took Carlson to task for a graphic caption which quoted Tyson alluding to Joe McGinniss's sordid details about former NBA player Glen Rice's relationship with Palin. "Mike Tyson: Sarah Palin met the 'wombshifter'" read the offending headline.
"I keep asking myself, why would Tucker allow this to be posted on his website?" Van Susteren fumed, "I am suspicous his website is not doing well and this is one quick last breath to create buzz to keep it afloat."
"I don't like it when I see that my friends do disgraceful things – but we need to start calling out even our friends to stop this," she added.
An Editor's Note was affixed to the top of the post:
Many of the quotes in this story are offensive, indeed repulsive, and not suitable for younger readers or those who are easily shocked. They are also newsworthy. Had Tyson used this language to attack virtually any other person in public life, he'd be vilified on the front page of the New York Times. But you won't read these quotes in the Times. We believe they deserve public scrutiny and condemnation
Mediaite's Tommy Christopher, who, you may recall, was fired by Politics Daily after he denounced similarly vile comments by a Playboy writer about Palin and nine other conservative women, says "If the Daily Caller thought Tyson's remarks deserved 'scrutiny and condemnation,' they should have provided some. While there's an argument to be made that Tyson's comments were newsworthy, they merited more than uncritical repetition."
"Anyone who thinks this is just about sticking up for Palin is missing the point," Christopher said, in reference to Politico's post on the matter. "I'm certainly no Palin fan, but this kind of thing touches all women, and all men who care about them."
Van Susteren told Christopher, "Tucker is going to be on the show tomorrow night so we can talk this over."
That should be some must-see TV.
See the headline that got Susteren steamed below, courtesy of The Daily Caller: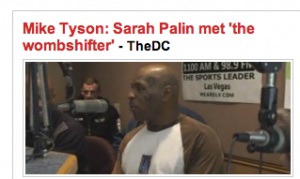 (Update: An earlier version of this story said the Editor's Note came "subsequent to" Van Susteren's blog post. Daily Caller Executive Editor David Martosko clarified that the blog "added that note on Saturday morning at 10:15am. Greta's first piece on the issue appeared Sunday morning just after 10:00am.")
Have a tip we should know? tips@mediaite.com