GSA Refutes Dem Letter Saying the Agency Has Already Made Determination on Trump Hotel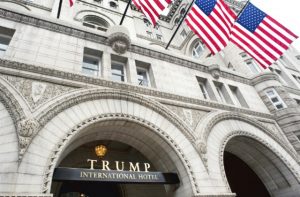 President-elect Donald Trump's businesses and potential conflicts have come under a lot of scrutiny in the lead-up to his inauguration next month, and Democrats on the House Oversight Committee have singled out his ownership of the Trump International Hotel in D.C. for particular concern.
In a post on Medium, the Democrats say that the Deputy Commissioner of the GSA confirmed to them that Trump as president would be in violation of the lease agreement:
The Deputy Commissioner informed our staff that GSA assesses that Mr. Trump will be in breach of the lease agreement the moment he takes office on January 20, 2017, unless he fully divests himself of all financial interests in the lease for the Washington D.C. hotel. The Deputy Commissioner made clear that Mr. Trump must divest himself not only of managerial control, but of all ownership interest as well.
They're citing a section of the lease agreement that says "no member or delegate to Congress, or elected official of the Government of the United States… shall be admitted to any share or part of this Lease, or to any benefit that may arise therefrom."
The Democrats say the deputy GSA commissioner told them that their reading of that section is the same as theirs.
However, the GSA released a statement after the Democrats' public letter to say that they haven't made their final determination yet:
GSA does not have a position that the lease provision requires the President-elect to divest of his financial interests. We can make no definitive statement at this time about what would constitute a breach of the agreement, and to do so now would be premature. In fact, no determination regarding the Old Post Office can be completed until the full circumstances surrounding the President-elect's business arrangements have been finalized and he has assumed office. GSA is committed to responsibly administering all of the leases to which it is a party.
[image via mj007/Shutterstock]
— —
Follow Josh Feldman on Twitter: @feldmaniac
Have a tip we should know? tips@mediaite.com
Josh Feldman - Senior Editor