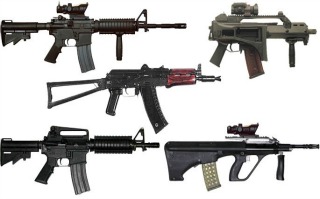 Gun store manager Ryan Horsley says he had to disconnect his phone lines for three whole days because he was overwhelmed with customer orders. "We had to shut everything off," says Horsley, who owns Red's Trading Post, Idaho's oldest gun shop. "We were swamped in the store and online."
Local customers weren't the only ones rushing to this Twin Falls shop: people wanted to find out about the store's gun stock from as far away as New York. The new trend isn't specific only to this store. The Associated Press reports that "demand for firearms, ammunition and bulletproof gear has surged since the Dec. 14 massacre in Newtown, Connecticut."
Although the tragedy encouraged a broader conversation about increased gun control in America, the idea of a ban on certain weapons has made gun advocates panic and begin buying up guns and ammunition at stores nationwide. According to the AP, "assault rifles are sold out across the country" and "stores are struggling to restock their shelves."
Franklin Armory, a gun maker in California, is telling his distributors that it will take up to six months to fulfill their orders. William Kotis, president and CEO of real estate development company Kotis Holdings, went to a gun show looking for a rifle and left empty-handed. "People are stockpiling," he said.
The AP notes that "no organization publicly releases gun sales data," and the only way to check demand is to monitor the number of background checks being done every month. The Federal Reserve Bureau handles that data and said it did 16.8 million background checks as of the end of November, an increase of 2 percent since last year.
President Obama's comments following the shooting may be partially responsible for the increase in demand, according to James Zimmerman of SelwayArmory.com, a website that sells guns and ammunition. He saw his sales dramatically increase after Obama's press conference announcing a new task force on gun control.
Elmar Uy is vice president of business operations at Bullet Blocker, a company that makes bulletproof vests and briefcases. He said the only way he found out about the Newtown tragedy was that he "saw the sales rise and then turned on CNN." He said he's "never seen numbers like this before."
Guy Petinga II, owner of Lady Liberty Gunsmithing LLC in Atlantic City, New Jersey, added, "People want guns now even more than ever."
h/t HuffPo
—
>> Follow Anjali Sareen (@AnjaliSareen) On Twitter
Have a tip we should know? tips@mediaite.com