Guy Who Called Hillary the C-Word Interviewing With Trump For Agriculture Secretary Job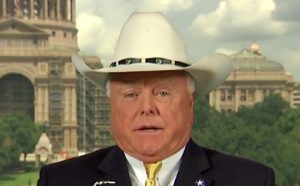 While the incoming Trump administration has filled most of its Cabinet positions, there are still some with vacancies. One of them is Secretary of Agriculture and it appears that Trump's team will be meeting with at least one man today to potentially fill that spot.
According to Politico, Texas Agriculture Commissioner Sid Miller is scheduled to show up at Mar-a-Lago this afternoon to talk with Chief Strategist Steve Bannon and Chief of Staff Reince Priebus about the job. If Miller's name sounds somewhat familiar, it's likely because you remember him as the guy who sent a tweet days before Election Day calling Hillary Clinton the dreaded c-word.
Takes a lot of mental firepower to be the Texas Agriculture Commissioner pic.twitter.com/FO0rLsiNnp

— chris hooks (@cd_hooks) November 1, 2016
Miller would later delete the tweet and his staff initially blamed the sending of it on Miller's account being hacked while also calling it a retweet. The tweet wasn't a retweet, but actually a copy-and-paste job from an alt-right account that Miller's account followed. (An account that has since been suspended.)
Politico also noted that Miller had made a name for himself previously by defending cupcakes and deep fryers in school cafeterias, but is now touting his support for fresh produce and healthy eating.
Now, Miller – who once held a press conference in front of a cupcake truck to announce the desserts could be served in schools and allowed schools to bring back deep fryers — is touting his promotion of fresh, local produce and school gardens. He said he's a fan of Obama's vegetable garden on the South Lawn of the White House, too.

"I like that. We're doing the same thing," he said, noting that his department gives schools kits to start "salsa gardens," which include tomatoes, cilantro and peppers.
Two other Texans are also apparently in the running for the position. Elsa Murano, who met with Trump earlier this week, previously worked in the Bush Administration. Ex-Texas Agriculture Commissioner Susan Combs talked with Vice-President-elect Mike Pence last week.
[image via screengrab]
–
Follow Justin Baragona on Twitter: @justinbaragona
Have a tip we should know? tips@mediaite.com