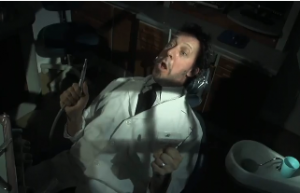 Every year, a holiday hits the calendar that is filled with lively storytelling, pastry-eating, and an imperative to get really, really drunk. That holiday is Purim and it's signature baked good — the triangle-shaped Hamentaschen with its sticky, moist center — is a snack that Robert Pattinson probably wouldn't like very much.
Every year, too, Rob Kutner, formerly of the Daily Show and the Tonight Show with Conan O'Brien, gathers a hilarious cast and crew together for his Purimspiel called The Shushan Channel, a very funny sketch show that is happening at the 92nd St. Y Tribeca on Saturday Feb. 27th. Every year he also pulls together a separate, equally hilarious cast and crew to create a promo video for the show. Last year it was "Meshuggeneh Men" (feat. The Office's Ellie Kemper and Amy Sedaris) the year before it was "Jewno" (feat. the actual dad from Juno). This year, the Jews have gone darker: It's Wolfman….DDS. And Will Forte doesn't wanna die.


So! Disclosure: I was what's known as "The Card Girl" last year and this year I'm a contributing writer, but have had sufficiently little to do with the actual quality of the production to feel at all conflicted about recommending this. And this year it's going to be a doozy: Glee, Glenn Beck, Harry Potter & Facebook will all get the ancient Persian treatment (oh and will there be a devastating Conan/Leno sendup? I've read the script. Er, YES.) Previous special guests in the show have included John Oliver & Asif Mandvi; this year it's featuring Daily Show creator Lizz Winstead, 30 Rock's Scott Adsit and Community's Joel McHale (plus a special guest star that comedy nerds will appreciate). The writers hail from all sorts of outfits like Conan, 30 Rock, Daily Show etc., and everyone drinks a lot, which means they find my hamentaschen jokes even funnier.
Here's the poster: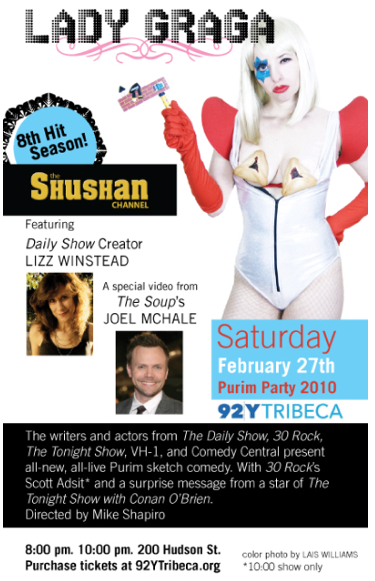 …and here are some past videos. Mel Gibson is a huge fan!
"Jewno"


"Meshugeneh Men"


More info and tickets avail here.
Have a tip we should know? tips@mediaite.com