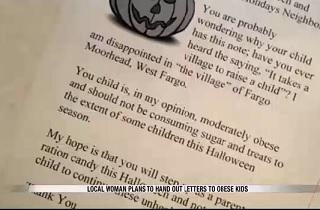 What ever happened to that simpler time when all you had to worry about were razor-bladed apples that you weren't going to eat anyway? One Fargo, North Dakota woman plans on handing out "treats" that could rot your child's self-esteem: a letter that chastises the parents of fat kids, and urges them not to let their kids over-indulge in sweets this Halloween.
And in Future Breaking News, Fargo Woman Sets Guinness World Record For Stomping Out Flaming Bags Of Poo.
The woman behind the nasty letter, who calls herself Cheryl, called in to a local radio station to explain herself. From ValleyNewsLive.com:
She has decided to give a letter instead of candy to Halloween trick or treaters that she feels are "moderately obese."

"I just want to send a message to the parents of kids that are really overweight… I think it's just really irresponsible of parents to send them out looking for free candy just 'cause all the other kids are doing it," says the author in a Y-94 morning radio interview.

That's where the letter first surfaced and started to spread through social media.

"They were chatting today and got a call from Cheryl out of the blue who really wanted to voice her opinion about obesity and that it really takes an entire community to solve the obesity challenge," says Y-94 Program and Music Director JT.

"I'm contributing to their health problems and really, their kids are everybody's kids. It's a whole village," says the letter's author in the interview.
The letter itself reads, in full, as follows (emphasis mine):
Happy Halloween and Happy Holidays Neighbor!

You are probably wondering why your child has this note; have you ever heard the saying, 'It takes a village to raise a child?' I am disappointed in 'the village' of Fargo Moorhead, West Fargo.

You child is, in my opinion, moderately obese and should not be consuming sugar and treats to the extent of some children this Halloween season.

My hope is that you will step up as a parent and ration candy this Halloween and not allow your child to continue these unhealthy eating habits. Thank you.
"Happy Holidays?" So she hates Jesus, too?
Old Lady Who Always Gives Out Pennies was unavailable for comment, but a spokesman says she's looking forward to her first poo-free post-Halloween porch ever.
Here's the clip, from ValleyNewsLive.com:
(h/t Caleb Howe)
[photo via screengrab]
Have a tip we should know? tips@mediaite.com