Hannity Confronts Akin For Not Stepping Aside: 'Your Political Interests Are Above The Party?'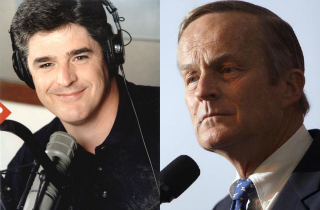 In an interview on Sean Hannity's radio show Tuesday afternoon, Rep. Todd Akin faced tough questioning from the eponymous host who continually asked the GOP Senate candidate why he refuses to drop out, despite pleadings from a slew of prominent Republicans including presidential candidate Mitt Romney.
Akin reiterated that he is sorry for the controversial use of the word "legitimate" when discussing Sunday whether a rape victim can get pregnant. He quoted a pro-life activist who clarified that Akin was not referring to the rapist as legitimate, but rather referring to the "false claims" of rape like "those made in Roe v. Wade."
"So are you not sorry?" Hannity asked. "Are you defending the remarks?"
"I misplaced the word and created something that people didn't understand," Akin replied. "And I'm sorry for that."
Hannity confronted Akin over his medical claim that rape victims cannot get pregnant because of biological mechanisms that prevent insemination. The embattled congressman conceded his science was wrong, adding that "People do get pregnant from rape…. I was just medically wrong on that."
"You accept now that the medical claim you made is simply wrong?" Hannity challenged. "And you don't believe what you said yesterday was correct?"
"I'm not a medical expert. I don't pretend to know percentages and things like that," Akin replied. "It was just an article — or a couple of articles I read. They were probably in error."
"Are they?" Hannity questioned.
"I don't know the percentages," said Akin.
"You do understand this is discredited?" Hannity said in response. Akin conceded.
Hannity then confronted Akin with a list of prominent Republicans — pro-lifers included — who want the candidate to step aside from the Missouri Senate race.
"Are you just saying to them, 'No, it's more important to me,'" Hannity asked. "In other words, are you saying that you think your political interests are above the party?"
"My interest is about America," the congressman replied.
"Can you name one current member of the Senate that has called you and asked you to stay in?"
"No. But … our polling data shows I'm still up a point."
Hannity then pointed out that if the rest of the party thinks he should get out of the race, and he stays put and ends up losing on Election Day, Akin will likely feel awful the following day for having blown the Republican Party's chance to gain a Senate majority and overturn ObamaCare as planned. "How are you going to feel?" Hannity asked.
"Terrible. But if I thought that were going to happen, I'd get out of the race," he said.
Listen to a portion of the interview below, via WABC-AM:
Listen to the full 30-minute interview here, via Reuters' Matthew Keys
— —
>> Follow Andrew Kirell (@AndrewKirell) on Twitter
Have a tip we should know? [email protected]