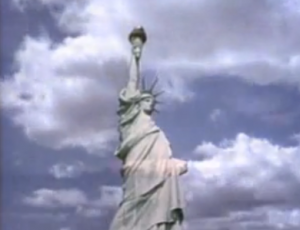 The American Flag has been waved in many a commercial, be it for cars, beer, or cars and beer or beer and cars. They feature dogs, children, families (and yes, beer, cars and trucks) and sometimes even horses, and all have an uncanny ability to tug at our heartstrings, unless they are over-the-top ridiculous, which sometimes happens, too. But it's the heartstrings they go for, and often the aim is dead on. Add in respect for American service men and women fighting for their country, and you may find it hard to keep it together. I'm Canadian, so my response to some of these commercials might differ from that of an American, but I think on the whole, probably not – it's imagery I grew up with too via TV and movies and, more recently, connects to events I experienced on this side of the border over the last 12 years of living here. Okay, enough disclaimers: Here is a collection – non-exhaustive! – of some patriotic commercials and videos for this Fourth of July. Warning: You will choke up. You will also smile, and maybe think.
Let's kick it off with "Our Country" by John Mellencamp…I mean by Chevy. In case you worried they missed something, worry not, they didn't. "From the East Coast, to the West Coast," to 50s' cars to hula hoops to Rosa Parks to MLK to Nixon to Vietname to hippie 60s peace marches to barn-raising to 9/11 to firemen to babies to Katrina to amber waves of grain, it's got it all. And the iconic voice of John Mellencamp who's been singin' about Americana since he was John Cougar. Exploitative? Definitely, said Seth Stevenson in Slate when the spot came out. Popular? Not very, according to the backlash it spawned (and apparently it didn't goose sales either). Patriotic? The best part of that word is how it can be defined singularly, philosophically and personally by patriots (and, er, their Canadian friends). 'This Is Our Country' is not a simple place to start, if you want to really think about these things, but for a round-up of ads and the use of imagery therein, it's certainly an all-inclusive place.


Okay let's step away from complex thoughts about how American historical imagery – warts and all – can and should be used and just embrace the ridiculous and fun. Our own Jon Bershad was a fan of this one recently, which features "George Washington gunning his Dodge Challenger towards a bunch of Red Coats as they cower in terror. I'm not sure, but I believe the moral of the clip is, 'Trucks are awesome and, also, f**k you, England! Whoo!'" It was released a few weeks ago, amid the height of anti-British BP backlash, with a little bit of World Cup rivalry thrown in. Tagline, "America got two things right; Cars and freedom." (For a more nuanced take, see Tim Henry at BNET.) Or just enjoy watching George Washington drive into a bunch of Redcoats.


The Pride Is Back! Old-school commercial for Plymouth Reliant: You know an ad is patritotic if it opens AND closes with a close-up of a waving flag. Extra points if it has horses, and two cowboys riding together twirling a lasso (have any commercials featured that image post-Brokeback Mountain?). More points for adorable toddlers wearing oversize hats. And still more points for sunsets. All no doubt meant to counteract the sheer terror of the most famous Plymouth ever, that 1958 fire-engine red Plymouth Fury that'll rip you to shreds and come back to bite you from the compactor: Christine. Plymouth went the way of the covered wagon in 2001, but lives on in this awesomely old-school ad:


This one drills down in a different way. It's by the Ad Council – one of the leading producers of PSAs since 1942, according to their YouTube channel, which seems to have the inventory to prove it – and is part of a series promoting "Fatherhood Involvement." Not overtly patriotic per se but the initiative sure is. Made a huge splash when it debuted. Everyone thinks this ad is much too much, this ad is much too much:


This one, though, is my favorite – and is a reminder of what today is also about. It is called simply "Best Patriotic Commercial" on YouTube – it's by Anheuser Busch, with credit taken quietly and unobtrusively the end. PSA-type commercials from giant corporate entities are great gifts to the nation, in my humble opinion (to be strongly contrasted with the "This Is Our Country" take by Chevy above, which take it to that next level, and then that level after that). I have thanked servicemen and women in airports before (or on the street or wherever) but just as often I've seen them and not wanted to bug them, or been in a hurry, or whatever reason. I will remember this commercial next time:


Here's an older Army recruitment video I found on YouTube – "My Hometown – Freedom Isn't Free" – that I imagine they cut down to commercial length and ran like hell. If not, they should. It'll getcha. Even with the 80s soft-focus. Actually, especially with that.


IAVA – Iraq and Afghanistan Veterans of America – does this stuff right. Probably because they know it from living it. This next commercial is simply called "Alone." It's pretty powerful.


This one is called "Camouflage," also by IAVA – equally powerful in a different way:


"I Like A Boy" – Switching tacks, this one is powerful in a more disguised way – it's a peppy, poppy music video for one of the original "Obama Girl" songs out of Barely Political called "I Like A Boy." As in, "I like a boy who rocks a doggie tag/Holding it down for the U.S. flag/You know the kind I like to please/Doing us proud when they're overseas!" The super-fun song is matched by a super-fun video featuring Obama Girl (and Giuliani Girl and the Romney triplet-Girls – remember them?) doing push-ups and "training" with soldiers in uniform. It also featured clips of real-life army girlfriends and wives holding pictures of the boys they like, which gets you. A joint venture by Barely Political and IAVA, it still holds up. So do some of those outfits, frankly. Rawr.


"You Keep The Juices Flowin'" – Budweiser: I'm not sure that's what the ad is called, but it's the line that caught me so that's what we'll call it. It's a toast to the people who "keep America goin'" and celebrates workers and their play (with a pretty amazing opening shot, I might add). Also features the famous Budweiser Clydesdale horses, which we'll get to.


Budweiser "American Dream" – "A tremendous example of brand building through positive association," says someone who calls herself The Ad Gal, on whose YouTube channel I found this. The Budweiser Clydesdale horses are truly beautiful and majestic animals (and manage to keep those hairy hooves beautifully clean somehow, even while galloping along dusty roads and over fragrant fields) – here they follow their natural instincts to build, as their ancestors did lo those many years ago. Favorite shot: the close-up of the eye. Makes you think back on The Godfather with extra horror.


Budweiser 9/11 Tribute – This is very moving. It's been almost a decade but I can still remember how commercials like this would choke me up. Truth be told they still do. I'm sure someone has written a paper on the cathartic effects of post-9/11 advertising, and if so, I'd like to read it. (Comments section?) It's a genre unto itself, and this is as quietly heartfelt an example as any.


"I Am An American" – Ad Council…and here is another, a post-9/11 ad from the Ad Council and Austin-based ad agency GSD&M. From the Ad Council YouTube channel page: "Showing people of all ages, races and religions stating, "I am an American," the ads helped the country to unite in the wake of the terrorist attacks. On the air just ten days after the tragedies, the ads conclude with the American motto, E Pluribus Unum, or 'Out of Many, One.'"
Did I miss any? I'm sure I did. Please add your own favorites in the comments section. Happy Fourth!! And if you want to support your serving men and women today, send some love to IAVA.org and/or Remind.org, who care for returning veterans of the nation's conflicts.
Have a tip we should know? tips@mediaite.com