Harry Reid Tears Into Dem Nuclear Official: 'First-Class Rat,' 'Incompetent,' 'S**t-Stirrer'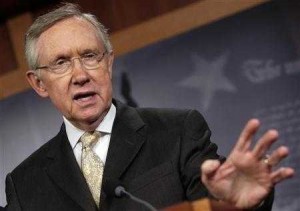 Harry Reid is not known for using strong language when talking politics, so this must be a very special occasion. Reid was interviewed by The Huffington Post on the subject of one Bill Magwood, a Democrat currently serving as a commissioner at the Nuclear Regulatory Commission. Reid has been strongly opposed to storing nuclear waste at Yucca Mountain in his home state of Nevada, and claimed that after being privately assured that Magwood was on his side, Magwood "worked against the effort to shut down Yucca." This led to Reid's tirade today, calling Magwood everything from a "rat" to "incompetent" and "unethical."
RELATED: Politicians Are Using More Profanity In Public, And It's About F**king Time
Reid explained that while he tends not to get too riled up over political disagreements, what really angers him is when people blatantly lie to him.
"You know, when you're in this government, this business of politics, the only thing that you have is your word," said Reid, seated in his Capitol office. "I can be as partisan as I have to be, but I always try to be nice. I try never to say bad things about people. Bill Magwood is one of the" — Reid paused, deciding which adjective to reach for, before picking them all — "most unethical, prevaricating" — he paused again, this time for 10 full seconds — "incompetent people I've ever dealt with. The man sat in that chair — right there — and lied to me. I've never, ever in my life had anyone do that. Never."
Reid called Magwood a "treacherous, miserable liar" as he explained how Magwood two-timed him on the Yucca plan. He continued to tear into Magwood, bringing up Magwood's connection to efforts to oust Gregory Jaczko, the chairman of the Nuclear Regulatory Commission who announced his pending resignation in May.
"He's a first-class rat. He lied to Rouse, he lied to me, and he had a plan. He is a tool of the nuclear industry. A tool," Reid said. "Magwood was a shit-stirrer. He did everything he could do to embarrass Greg Jaczko."
h/t The Hill
Have a tip we should know? tips@mediaite.com
Josh Feldman - Senior Editor