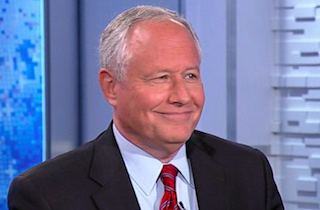 In the days since Sarah Palin delivered her rambling, often-incoherent speech at the Iowa Freedom Summit this past weekend, conservatives of all stripes have been rushing to marginalize as anything but a serious presidential candidate.
MSNBC's Joe Scarborough called it a "tragedy." Fox News' Bill O'Reilly dismissed her as nothing more than a "reality show." Even Sean Hannity seemed genuinely concerned that Palin had lost her mojo.
Then there was Matt Lewis, one of Palin's earliest supporters, who penned as essay titled, "You Betcha I Was Wrong About Sarah Palin." He wrote, "I still say she was an incredibly talented political force, but she squandered her opportunity for greatness, and instead became a fad. And it's worth considering that maybe her early critics saw some fundamental character flaw—some harbinger of things to come—that escaped me."
But could it be true that the Weekly Standard's Bill Kristol is also running for the Palin exits? After all, it's essentially his fault that she ended up as John McCain's 2008 running mate in the first place. More than anyone else, Kristol is responsible for foisting Palin upon the national scene.
Less than a year ago, Kristol was describing Palin as a "huge political talent" and a potentially "formidable" candidate for president on Morning Joe. In that same appearance, he scoffed at Chuck Todd's suggestion that Palin might seek the Republican nomination for financial gain. "I mean, why wouldn't she run?" Kristol asked.
But when the Washington Post's Karen Tumulty reminded Kristol of those comments this week, he started singing a different tune.
"Did I say it that recently?" Kristol wondered. "The name Sarah Palin hasn't come up in the past three to six months…. Maybe the speech Saturday was just a confirmation of her no longer being a major player, at least in these circles."
Perhaps the writing was on the wall last month when the editor posted his "Kristol Clear 2016 Straw Poll" and included 20 candidates, none of which were named Sarah Palin.
[Photo via screengrab]
— —
>> Follow Matt Wilstein (@TheMattWilstein) on Twitter
Have a tip we should know? tips@mediaite.com