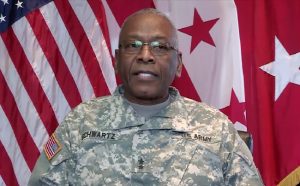 The Washington Post reported earlier today that the commanding general of the D.C. National Guard, Maj. Gen. Errol Schwartz, is being forced to step down from his post and that he has to leave his command on the 20th, during the presidential inauguration ceremonies.
Schwartz has been involved in helping plan the inauguration for months, coordinating with the city's police, Secret Service and other officials. As the inaugural parade is going through Washington, Schwartz will hand over control of the Guard to an interim replacement until a new one is assigned.
Schwartz noted haw strange this move was, considering how he would be in charge of thousands of troops gathered in the area for the ceremonial transfer of power.
"The timing is extremely unusual," Schwartz said in an interview Friday morning, confirming a memo announcing his ouster that was obtained by The Washington Post. During the inauguration, Schwartz would command not only the members of the D.C. guard but also an additional 5,000 unarmed troops sent in from across the country to help. He also would oversee military air support protecting the nation's capital during the inauguration.

"My troops will be on the street," Schwartz, 65, said. "I'll see them off but I won't be able to welcome them back to the armory." He said that he would "never plan to leave a mission in the middle of a battle."
The general told the paper he was not instructed why he was being removed, noting he was "a soldier" who was following orders and that the "president has the power to remove me."
Unlike in states, where the duty falls upon governors, the appointment of D.C.'s National Guard commanding officer falls up the President of the United States.
[image via screengrab]
–
Follow Justin Baragona on Twitter: @justinbaragona
Have a tip we should know? tips@mediaite.com