Last night, Montel Williams was supposed to appear on The O'Reilly Factor and when he didn't, Bill O'Reilly called him a coward and said he flaked over "some gay thing." Williams didn't like that one bit and lashed out on Twitter and Periscope, assuring his followers that he had, in fact, shown up, found a "bait and switch" situation waiting for him, and walked out. He said that O'Reilly was the real coward.
Today, he continued on Twitter. First, he insisted that the statement provided by O'Reilly to former Mediaite columnist Joe Concha was all wrong:
Bill's entire statement to @JoeConchaTV untrue. I've sent Joe texts and emails to prove it… Truth matters bill https://t.co/CHV97x5meE

— Montel Williams (@Montel_Williams) July 21, 2016
Next, he went after a similar report from the Hollywood Reporter, saying he would provide the emails he and O'Reilly's team exchanged.
Perhaps @thr would like the full set of emails and texts with @oreillyfactor – Bill's ego has an honesty problem https://t.co/1nvkMpZVjo

— Montel Williams (@Montel_Williams) July 21, 2016
Finally, he threatened to release them in 15 minutes if Fox News didn't walk back O'Reilly's statements.
We're giving @FoxNews @oreillyfactor 15 minutes to tell the truth voluntarily https://t.co/etXDXdMk3E

— Montel Williams (@Montel_Williams) July 21, 2016
Below you can see the texts between Factor staff and Williams' spokesperson. They appear to confirm that the key elements of the segment were supposed to focus on Williams' speech from an LGBT event held at the Rock and Roll Hall of Fame yesterday, which is in Cleveland, just like the RNC. Caitlyn Jenner also gave prepared remarks at the brunch. Williams' team forwarded his speech to O'Reilly's people and were told that another part of the segment would feature a discussion of a new Monmouth poll on "racial issues."
@oreillyfactor lying. At 7:19 pm yesterday my speech was still in segment per producer text to @LucidJonFranks pic.twitter.com/BJwO03FyWj

— Montel Williams (@Montel_Williams) July 21, 2016
Mediaite has also seen prior texts between the teams that indicate the LGBT issues speech was sent ahead to O'Reilly's people hours in advance. Further, we have seen the emails that prove it. It was sent at 11:02 a.m. local time. Receipt of the speech was confirmed at 11:15 and Williams' team was asked specifically what topics they wanted to discuss: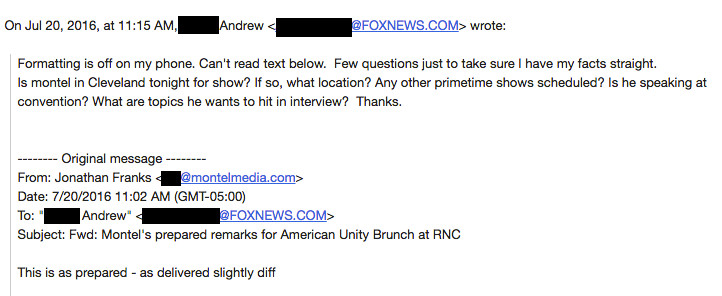 Upon arriving to the green room ahead of the show, according to Williams' spokesperson Jonathan H. Franks, who spoke to Mediaite by phone, it became obvious to Williams that the entire segment had "done a 180" and that O'Reilly's plan was to only talk about the poll. In the following email, the Williams team was told that O'Reilly would "also" talk about the poll, but in the green room, Franks said, the plans changed from the requested "few lines."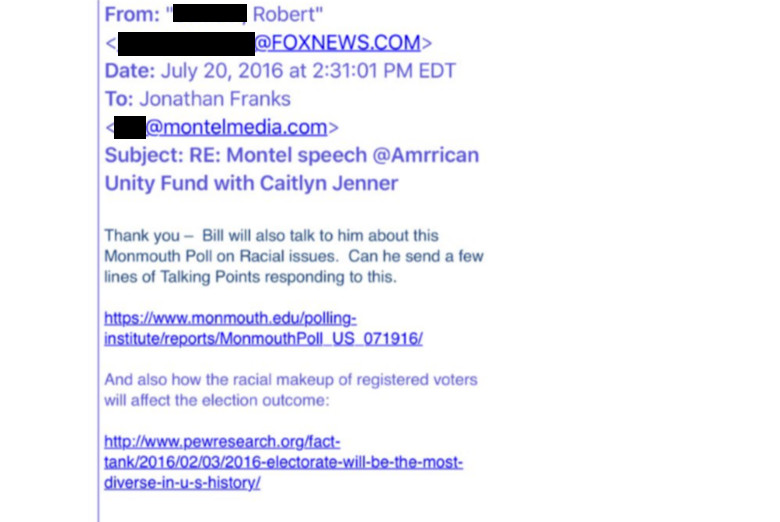 "They didn't tell us Eric Bolling was going to be on, either. We don't do ambushes," added Franks. "We love Bolling but no one even told us he would be there."
That's when Franks claims they bailed, which explains the "gay thing" that O'Reilly said fueled the flaking.
At the very least, the texts posted to Williams' Twitter account prove that he was there when he said he would be and back up his claims that he walked from the set when he realized that his speech from the event wouldn't be the topic of discussion, and the emails prove that the plan, as far as Williams and his team knew, was to discuss his speech at the LGBT issues brunch.
[image via screengrab]
Have a tip we should know? [email protected]