Here's a REAL Post-Debate Poll, and Take One Guess Who Benefited From a Big Boost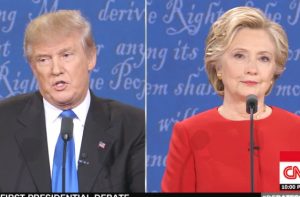 There is absolutely no doubt about it: Donald Trump won the first presidential debate by a wide margin.
That is, if you ask Donald Trump.
The "polls" he's been citing of course are about as scientific as hurling darts at a dart board while blindfolded. They tend to be user-generated polls, also known as the ones where people can vote 100 times and write in the answer "Deez Nutz" to the question "Who would you like to see be Donald Trump's Secretary of Defense?"
They're good enough for Sean Hannity, sure, but how about the rest of us who would maybe like to deal with empirical data a bit?
A new poll — a REAL poll — is out this morning regarding likely voters in Virginia taken after last Monday night's debate. Don't tell Donald Trump the results.
According to the poll from the Wason Center for Public Policy at Christopher Newport University, former Secretary of State Hillary Clinton is now up 42% from 39% in September.
While Trump is also up from 33% to 35%, it is the migration of likely independent and millennial voters to Clinton that spells her biggest post-debate triumph. "Support for Clinton among Millennial voters increased by 7 percentage points, while their support for Trump was unchanged," says one of the polls' key findings.
The report continues, "Independents significantly shifted support to Clinton from Trump and Johnson following the Sept. 27 debate."
Clinton has managed to increase support among 18-34-year-olds from 34% to 42%.
Dr. Rachel Bitecofer, Assistant Director of the Wason Center, says, "Although Trump had an 11-point lead among Independents in our September survey, Clinton now leads that group by 6 points." The questions in the Wason Center polling take into account the third party candidacies of Libertarian choice Gary Johnson, Dr. Jill Stein of the Green Party, and independent Evan McMullin.
Have a tip we should know? tips@mediaite.com