Here's How People Are Reacting to Laremy Tunsil Almost Missing His Presser Over 'Allergic Reaction'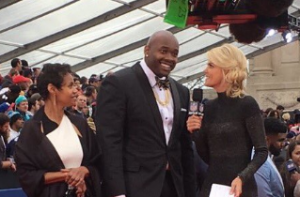 Every prospective NFL player falls asleep the night before the draft dreaming of being the most talked-about pick the next day. Visions of Twitter trends and press conferences dance in the heads of young American men. Laremy Tunsil achieved all of that last night, but probably not in the way that he wanted to.
Between the video of him smoking weed in a gas mask that was posted to his (now-deleted) Twitter and the incriminating texts uploaded to his Instagram, he had a busy enough night without even being the 13th draft pick and heading to the Miami Dolphins.
Today, he bailed on a press conference. His handlers said he was having an "allergic reaction." People on Twitter reacted as people on Twitter do.
@SportsCenter Sorry guys, allergies are flaring up. pic.twitter.com/bZ7GrlyXUP

— #Views (@CodeKEEM) April 29, 2016
@SportsCenter pic.twitter.com/SJVybmiGBZ

— Bryan Matthews (@BMattAU) April 29, 2016
@SportsCenter pic.twitter.com/WXWtgOhoiP

— Riko (@FuckTvitterHoes) April 29, 2016
He ended up showing up, though!
Just heard from Dolphins first round draft pick Laremy Tunsil at a press conference in Davie, and he says he is blessed to be here. @nbc6

— Jackie Nespral (@JackieNBC6) April 29, 2016
Haha the media couldn't even wait 24 hours to try to turn Laremy Tunsil from victim to UNCOACHABLE MALCONTENT for missing a presser.

— Mike Tunison (@xmasape) April 29, 2016
Obvious that Laremy Tunsil is coachable. Amazing how quick that allergic reaction got cleared up…yet he had no clue how it happened. ;)

— Mark Prentice (@blackshirt11) April 29, 2016
Somehow, he even managed to turn some of the public reception around.
Now that we have all the facts, I'd like to apologize to Laremy Tunsil for calling him a dumbass, posting that video right before the draft.

— Blake Williams (@KCAvsFan9) April 29, 2016
It's not often I feel bad for a player, but I feel bad for Laremy Tunsil.

— Josh Kirkendall (@Josh_Kirkendall) April 29, 2016
Maybe the best reaction so far has been his, since he's been keeping it positive.
Laremy Tunsil on the last 24 hours: "It's been good to me. I got drafted in the NFL. I'm happy." …I like that.

— Jeff Darlington (@JeffDarlington) April 29, 2016
What do you think? Did he have an allergic reaction? Is he handling this whole thing right?
[image via Twitter]
For more from Lindsey, follow her on Twitter or Facebook.
Have a tip we should know? tips@mediaite.com