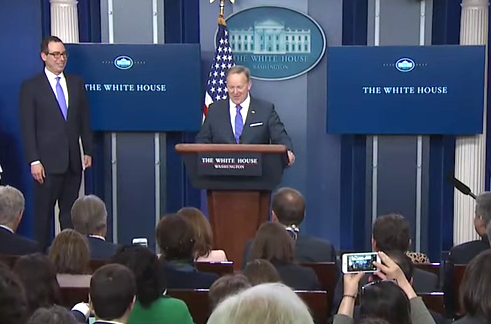 Donald Trump, it seems, doesn't hate everyone in the media. In an exclusive interview with Breitbart, the president revealed a soft spot for a mild mannered, White House correspondent from Reuters — Steve Holland.
"I know some great honorable reporters who do a great job like Steve [Holland] from Reuters," Trump told Breitbart's Washington Political Editor, Matthew Boyle. Trump went on to explain that his quarrel was not with 'media' but with 'fake media' — a distinction that seems to mostly apply to news outlets which have written critical coverage of him on any given day.
Trump seemingly gave Holland another plug at his recent address to CPAC, telling the assembled crowd that, "I had a story written yesterday about me in Reuters by a very honorable man." That story was almost certainly this piece by Holland on Trump's position on the Israeli-Palestinian conflict.
Coming from Trump, the praise is high. The president regularly spends considerable energy denigrating the media and has, at times, referred to some of the most venerable institutions in journalism as 'fake news' or 'failing.'
FAKE NEWS media knowingly doesn't tell the truth. A great danger to our country. The failing @nytimes has become a joke. Likewise @CNN. Sad!

— Donald J. Trump (@realDonaldTrump) February 25, 2017
For first time the failing @nytimes will take an ad (a bad one) to help save its failing reputation. Try reporting accurately & fairly!

— Donald J. Trump (@realDonaldTrump) February 26, 2017
The admiration for Holland appears to reflect a rare and genuine point of agreement between the mainstream media and President Trump. In 2007, after Holland stepped away from his work in the White House, CBS White House Correspondent Mark Knoller — himself a Washington institution — penned a touching tribute to his friend.
"He's a mild-mannered straight shooter. I've never heard him curse. I've spent many years covering the president with him, and I can't tell you what his political views are. He keeps them to himself and never lets his views color his questions or his reporting," wrote Knoller, "It's the way all of us should be."
His time away from the White House, however, was short-lived. Today Holland remains a mainstay of the daily White House press briefing.
Have a tip we should know? tips@mediaite.com