Herman Cain: If I'm President I Won't Appoint Muslim Judges Or Cabinet Members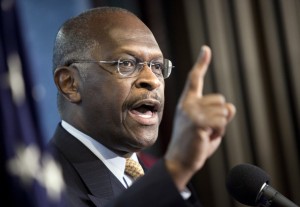 Former Godfather's Pizza CEO Herman Cain is ramping up his campaign for the Republican nomination for President in 2012, however he's hitting a few speed bumps along the way. Although some don't view him in the same league as top-tier Republican candidates, he does have strong conservative support in early primary states and at least proves that like other potential nominee Donald Trump, that he's not afraid to speak his mind.
When asked if he would be comfortable appointing a Muslim to be a federal judge or a member of his cabinet, Cain confidently replied:
"No, I will not. And here's why. There is this creeping attempt, there is this attempt to gradually ease Sharia law and the Muslim faith into our government. It does not belong in our government. This is what happened in Europe. And little by little, to try and be politically correct, they made this little change, they made this little change. And now they've got a social problem that they don't know what to do with hardly."
Although he's unlikely to apologize, since he said "I feel the way I feel," might a clarification of this statement be in order? Later Cain also said, "I get upset when the Muslims in this country, some of them, try to force their Sharia law onto the rest of us." Yet if Cain understands the distinction here, that most Muslims are not forcing Sharia law, then why does he still insist on banning all Muslims from his administration?
Watch the clip below from Think Progress:

Have a tip we should know? tips@mediaite.com