Herman Cain Tells GQ Men Don't Want A 'Sissy Pizza' Loaded With Veggies (Though He Does Like Arugula)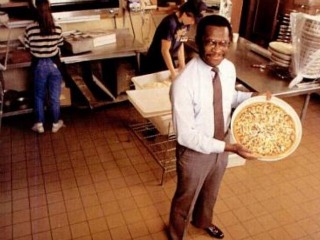 In an interview wherein Herman Cain is referred to as "the funniest, most outrageous guy on the GOP stage," GQ's senior editor Devin Gordon joined correspondent Chris Heath and food critic Alan Richman to take a look at the former Godfather's Pizza CEO's thoughts concerning myriad important issues facing our nation today: Jobs! Muslims! Ice cream flavors! Pizza toppings!
"No matter where you stand on Herman Cain," begins the interview, "whether, in your evolving estimation, he's a populist hero, a charming buffoon, or a thuggish sexual predator—let's all agree that American presidential politics has never seen anything like him." And there's no better way to observe and report on how, exactly, Cain has managed to sweep America off its feet than in the man's home environment – a pizza shop. Specifically, Washington DC's Seventh Hill.
In the interview, we learn that, despite the fact that his name is now inextricably linked to that most delicious of culinary offerings, Herman Cain doesn't eat pizza that often because it has "got to be as good as Godfather's or I won't eat it." Also (Parents, cover your children's eyes. And, actually, get them off Mediaite altogether.), he believes veggie pizzas are for sissy men. Sissy men with regular bowel movements and glowing skin:
Chris Heath: What can you tell about a man by the type of pizza that he likes?

Herman Cain: [repeats the question aloud, then pauses for a long moment] The more toppings a man has on his pizza, I believe the more manly he is.

Chris Heath: Why is that?

Herman Cain: Because the more manly man is not afraid of abundance. [laughs]

Devin Gordon: Is that purely a meat question?

Herman Cain: A manly man don't want it piled high with vegetables! He would call that a sissy pizza.
Classic Cain. Many, we're assuming, will find his comment offensive because of its implications about gender roles and machismo and the like. But those who find their feathers ruffled will be met, we're assuming, with a very specific response: "It was just a joke."
RELATED: Spokesperson Explains Hermans Cain's Quip About Anita Hill's Support: 'It Was A Joke'
Never mind whether the joke is one that is appropriate for a candidate running for the position of commander-in-chief, if you can't get behind Cain's sense of humor, that's not his — or his supporters' — problem; it's yours.
Also, another fun fact: Just like Bachmann and Perry before him, Cain used to vote Democrat.
And in case you're wondering whether constantly being connected to all things pizza has begun to get to Cain, the answer is: Yeah, kinda. He would like you to know that he's worked at various corporations, both within the food industry as well as with the Department of the Navy and on the advisory board of the Strategic Air Command, and that his educational background wasn't in business or food management at all, but, rather, in mathematics and computer science.
In closing, we'll leave with the recommendation to read GQ's interview, in full. And with this parting thought:
Devin Gordon: What do you think of the arugula?

Herman Cain: Oh, I like it.

[A fine pie, with a thin, chewy crust. To his credit, Cain is overcoming an innate prejudice toward vegetation.—AR]

[But a potentially dangerous political stance? Recall that during the 2008 campaign, then senator Obama was mocked for bringing up arugula at an Iowa campaign stop.—DG]
h/t GQ
Have a tip we should know? tips@mediaite.com