Hillary Clinton Campaign Manager Brags She Has Done 'More Than 300 Interviews' In 2016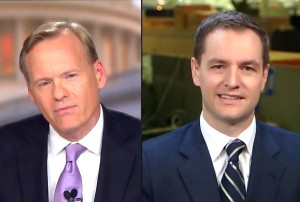 It has been 260 days since Democratic presidential nominee Hillary Clinton has held a press conference, and on Sunday morning's Face The Nation, CBS News' John Dickerson pressed Clinton campaign manager Robbie Mook to respond to the criticism that such an aversion weakens skills that a candidate will need as president. Mook responded by telling Dickerson that while Hillary has not had a full press conference since December 5 of last year, she has taken plenty of questions from reporters, a metric that the campaign is keeping track of:
Well, the real question here is, whether Secretary Clinton has been taking questions from reporters, which she absolutely has. We went and counted and she has been in more than 300 interviews with reporters this year alone, she's been on your show, and we're going to continue to do that. There are lot of different formats which she can engage in reporters, whether it's one on one interviews, whether it's talking with her traveling press reporters, or a press conference. We're going to look at all of those as we move forward. But I don't think it's fair to say that someone is shying away from tough questions when they have taken over 300 interviews from reporters, we tried to have the interns look how many questions she took, which is much bigger number, and we haven't even finished tallying that.
As a matter of fact, Clinton campaign spokesman Nick Merrill tweeted out that in-progress tally several weeks ago, in response to criticism from a CNN reporter:
HRC on journos: "We need you to keep holding leaders & candidates accountable." Tough to do when you don't take many questions.

— Dan Merica (@danmericaCNN) August 5, 2016
.@danmericaCNN she's taken over 2600 questions from press in 2016. I respect your constructive criticism, but don't publicly mislead people.

— Nick Merrill (@NickMerrill) August 5, 2016

With Hillary Clinton leading so handily with such little time remaining, there is little incentive for her campaign to do anything differently, but granting interviews is not even close to the same thing as taking questions from reporters. For one thing, beat reporters are often far more knowledgeable about their candidates and issues than other journalists. On the other hand, open press conferences carry considerable risk that a candidate will face hostile, prejudicial questions from reporters eager to make a name for themselves, an incentive structure that is powerful in conservative media.
Update: According to Reliable Sources' Brian Stelter, Hillary's campaign emailed him Sunday morning that the exact total of interviews Hillary has given this year is 375. The campaign declined an invitation to send someone to appear on Stelter's show.
This is an opinion piece. The views expressed in this article are those of just the author.