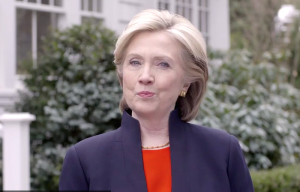 The day for which a certain slice of the Democrat electorate has been waiting since November 2008, and for which the political press has been breathlessly anticipating since November 2012, is finally, exhaustingly here.
Hillary Clinton announced her candidacy for the White House via an email from John Podesta to donors Sunday, officially launching a presidential bid that many consider to have been started in all but name over a year ago. Her website went live at 3:00 with an introductory video.
"Americans have fought their way back through tough economic times," Clinton says in the video, "but the deck is still stacked in favor of those at the top. Everyday Americans need a champion, and I want to be that champion."
Since Clinton stepped down from the State Department with record approval numbers she has delivered a slew of high-priced speeches and stumbled in early interview questions about her personal wealth. She has most recently been troubled by a scandal over her retention and subsequent deletion of thousands of emails on a private account and server during her tenure as Secretary of State.
RELATED: Political Press Mocks Hillary's Delayed 2016 Announcement
Clinton's approval numbers have in turn taken a hit, though she retains monumental leads over all potential Democratic challengers, and sizable national leads over any GOP contenders.
Many hope the official-ness of Clinton's campaign will lead to more openness with the press; Clinton's public persona has been almost hermetically stage-managed in the past two years, to the point that many have no idea how she stands on pivotal issues heading into 2016.
I'm running for president. Everyday Americans need a champion, and I want to be that champion. –H https://t.co/w8Hoe1pbtC

— Hillary Clinton (@HillaryClinton) April 12, 2015
Watch the video below, via Hillary Clinton:
[Image via Joseph Sohm / Shutterstock.com]
——
>> Follow Evan McMurry (@evanmcmurry) on Twitter
Have a tip we should know? tips@mediaite.com