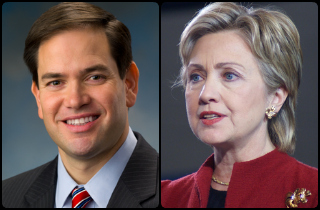 Sen. Marco Rubio (R-FL) and former Secretary of State Hillary Clinton used public radio airwaves Tuesday to trade barbs in what could be a preview of the 2016 presidential fight. On NPR's Morning Edition, Rubio called Clinton a "20th century candidate," saying she "does not offer an agenda for moving America forward in the 21st century." During an interview with Southern California's KPCC this afternoon, Clinton informed Rubio she's aware elections are about the "future."
On the charge that she had "no major successes" during her time in the Obama administration, Clinton pointed to — where else — her new book Hard Choices
, in which she said she lays out the various successes of her time in the State Department. "Maybe I should send a copy of it to my Republican friends," she joked.
She continued (emphasis added):
"Secondly, elections are about differences, as we know, but every election is about the future and certainly anyone who wishes to run for president has to make it clear how the experience that you've had in the past and what you believe and how you have acted on those beliefs will translate into positive results for the American people. I will be standing up and speaking out in favor of the changes that I think we need to make to improve life for middle-class Americans, to give every kid a chance to go to college without being bankrupted and disabled by student debt, to try and resolve our immigration challenges in a way that is keeping with our values, and so much else. I know that elections are about the future and I look forward in engaging in that kind of debate."
Beyond that, Clinton was not particularly interested in engaging in too much "hypothetical" theorizing about how she would run for president. She would only say that one would work to combine "what you have done, what you've stood for with what you intend to do" and demonstrate to voters a "constant thread of concern and action here."
Listen to audio below, via KPCC:
And you can hear the full interview at scpr.org.
[Photos via Wikimedia Commons]
— —
>> Follow Matt Wilstein (@TheMattWilstein) on Twitter
Have a tip we should know? tips@mediaite.com