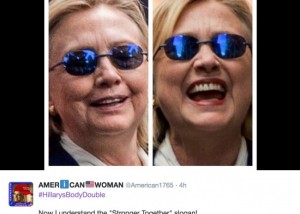 We've seen some truly excellent conspiracy theories in American politics, but perhaps none as contrived as the ones that have bubbled to the forefront during this election season. Maybe it is a result of the mainstreaming of the alt-right or maybe it is because the Internet allows for faster dissemination of ideas and more participation than ever before. Whatever the reason is, we are fortunate to have such top-notch entertainment, even if the electoral implications it could have are somewhat disconcerting.
Better even than the rumors that Hillary Clinton wears an earpiece or has people murdered with the flippancy of a Game of Thrones villain, today's theory is that she has a body double. That double, in fact, was supposedly out and about in the Democratic nominee's stead yesterday following the pneumonia-related collapse that was seen 'round the world. Per the theorists, the double allegedly walked out of Chelsea Clinton's apartment after the former Secretary of State went inside to recover from her faint.
#HillarysBodyDouble has been trending on Twitter this morning, proving that conspiracy culture has really gone mainstream since Kylie Jenner publicly questioned "chem trails" last year. Here is some of what is being said:
Personal trainers HATE her!

She how she lost 30lbs in 2 hours with this one simple trick!

#HillarysBodyDouble pic.twitter.com/x3jhn2AP45

— Adam (@notallsocialism) September 12, 2016
Liberals believe every lie about @realDonaldTrump but they don't believe the truth about @HillaryClinton #hillarysbodydouble

— Obama Will Screw Us (@obamascrewingus) September 12, 2016
Wow. Not a Secret Service Agent or Doctor in sight! ??#HillarysBodyDouble pic.twitter.com/HB88l545Qd

— Josh (@thejoshuanash) September 12, 2016
Hey guys don't worry it's just a conspiracy theory. #HillarysBodyDouble pic.twitter.com/ePL11agHkU

— Deplorable Avispar (@xAvispar) September 12, 2016
She collapsed hours earlier but not ONE person near her in case it happened again? #Delusional pic.twitter.com/9jkwpUcwwJ

— ♥ Pink Lady ♥ (@pink_lady56) September 12, 2016
Now I understand the "Stronger Together" slogan!

If Hill can't do it, her body double can! pic.twitter.com/gu2PM6dwpW

— AMERℹ️CAN??WOMAN (@American1765) September 12, 2016
Unless you see um' together who knows? #HillarysBodyDouble

— Deplorably Southern (@USofA4Me) September 12, 2016
*exhales deeply*
*lies back in rattan chair*

Ah, yes. That is some goooood internet pic.twitter.com/iHWnPvB3kO

— daveweigel (@daveweigel) September 12, 2016
The entire premise of the theory seems to be based on a dubious shot of the post-recovery Clinton possibly wearing different earrings than before and other photos that don't have any Secret Service members in them. Oh, and there is a woman in California who impersonates Clinton for a living, so she's been dragged into this, too. In 2016, that's good enough to warrant a trending topic all day.
[image via screengrab]
This is an opinion piece. The views expressed in this article are those of just the author.