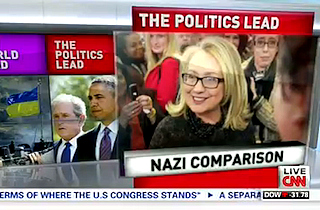 Cable news coverage of Hillary Clinton — who does not hold office and is not currently in contention for one — settled last week into a relatively even spread of moderate coverage across the three networks. Coverage was largely driven by Clinton's comparison of Russian President Vladimir Putin to Adolf Hitler, though poll numbers and an odd mention at CPAC got some play.

CNN led the way in total minutes of coverage, with MSNBC and Fox holding relatively even; CNN and MSNBC tied for most number of segments. MSNBC showed the most movement this weekend; normally gorging on the presumptive 2016 Democratic nominee, the channel has recently been more focused on Republicans' 2016 disarray, making Clinton's impending inevitability a foil, but not a topic itself: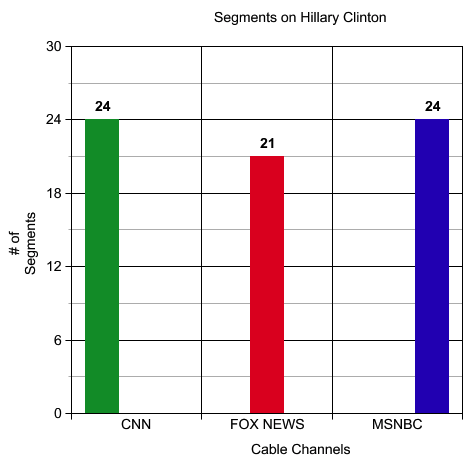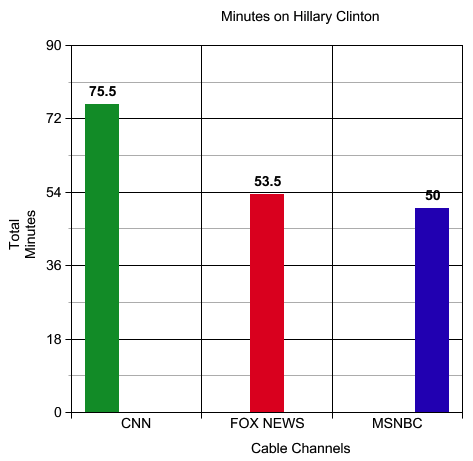 Meanwhile, the HillaryWatch Award for best reference to the absurdity of Clinton overkill while also participating in it goes to CNN's Jake Tapper and POLITICO's Anna Palmer. "It's telling we're talking about Hillary Clinton more than what President Obama is going to do today and what the house will vote on," Palmer said during a segment on Clinton's Putin-Hitler analogy on Tapper's show last Thursday. "She drives headlines in ways few politicians can." Yes.
Methodology: The study tracked cable news coverage from Monday, March 3 to Sunday, March 9, and counted any sustained discussion lasting more than thirty seconds and involving more than a passing allusion to Clinton (thus excluding a reference to Clinton during a discussion on, say, Rand Paul's presidential hopes). However, any on-screen graphic of 2016 poll numbers citing Clinton automatically counted as a segment. All repeats, teasers, and show intros were excluded.
Eternal Disclaimer: there are 972 days until the 2016 election.
Previous Editions:
HillaryWatch: Fox Couldn't Get Enough of Hillary Clinton Last Week
HillaryWatch: MSNBC Spent More Time on Clinton Than Fox and CNN Combined
HillaryWatch: Last Week Cable News Spent More Than 400 Minutes on Hillary Clinton
HillaryWatch: Last Week Cable News Devoted 80 Segments to Hillary Clinton
[Image via screengrab]
——
>> Follow Evan McMurry (@evanmcmurry) on Twitter
Have a tip we should know? tips@mediaite.com