Hispanic Coalition, MoveOn.org Petition Call for Trump's Removal as SNL Host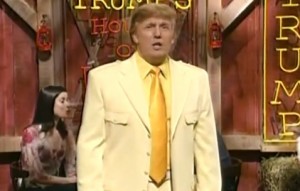 Both a major online petition and an Hispanic advocacy group are calling on NBC to remove Republican presidential candidate Donald Trump as host of an upcoming episode of Saturday Night Live.
Earlier this month, NBC announced that the New York real estate mogul and former SNL host would return to the program on Nov. 7. Trump subsequently told Fox News' Neil Cavuto that the gig signified his repaired relationship with the network, which was now "very good."
The announcement unsurprisingly caused concerns among many of Trump's detractors, least of which the National Hispanic Leadership Agenda. The Associated Press reports that the group "applauded [NBC] when it severed its beauty-pageant ties with Trump over his remarks about Hispanic immigrants" over the summer, but remains "flabbergasted" by his upcoming hosting gig.
"We are appalled that you would enable Trump's hateful speech for nothing (more) than a ratings ploy and ask that you rescind the SNL invitation," said the group in a letter to NBC Universal CEO Stephen Burke.
In addition, a MoveOn.org petition arguing that there is "no room for hate on Saturday Night Live" has surfaced. It currently has over 92,000 signatures.
According to petition writer Juan Escalante, "NBC is demonstrating that it doesn't care about its Latino and pro-immigrant viewers. It is providing a platform for Trump's insulting attacks on immigrants and calling it entertainment — something we do not find funny."
[h/t Associated Press, MoveOn.org]
[Image via screengrab]
— —
>> Follow Andrew Husband (@AndrewHusband) on Twitter
Have a tip we should know? tips@mediaite.com