Holder In 2009: Must Be 'Distance' Between A.G. And Obama, I Will Be 'The People's Lawyer'
Holder 2009: Must Be 'Distance' Between A.G. And Obama, I Will Be 'The People's Lawyer'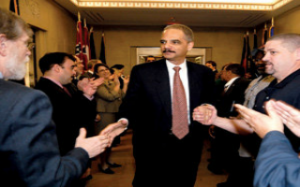 In a letter to the White House sent on Tuesday night, Attorney General Eric Holder requested that President Barack Obama invoke executive privilege to withhold documents relating to the Fast and Furious gun walking scandal. But during his 2009 confirmation hearings, Holder made it clear that he understood he would have to maintain political independence from the White House. "There has to be a distance between me and the president," said Holder at the time. "President Obama is not, I expect, going to ask me to do anything that would compromise what I should be doing as attorney general."

RELATED: Flashback 2007: Senator Obama Criticized President Bush For Trying To 'Hide Behind' Executive Privilege
"The documents at issue fit squarely within the scope of executive privilege. In connection with prior assertions of executive privilege, two Attorneys General have advised the President that documents of this kind are within the scope of executive privilege," Holder wrote to President Obama on Tuesday asking for his administration to exercise executive privilege.
But Holder's request could be viewed as a violation of the pledges he made to the Senate during his confirmation hearings where he emphatically expressed his ability to remain politically independent from the Obama administration.
During this April, 2009 confirmation hearings, Holder was asked by Sen. Herb Kohl (D-WI) asked Holder how he would behave differently than his predecessor, former Attorney General Alberto Gonzalez who was embroiled in a controversy surrounding President Bush's invocation of executive privilege to protect documents relating to his administration's decision to fire several federal judges.
"Your role among cabinet members is unique," said Kohl. "Your first duty will be to the Constitution, to the rule of law and not to the president… One of your top priorities will be to restore the integrity of the Justice Department… How can you assure us that you are the right person to restore the independence of the Justice Department?"
Holder expressed his understanding that the Attorney Generalship is not a political post and that there has to be "distance" between his office and the president.
I understand that the attorney general is different from every other cabinet officer. Though I am a part of the president's team, I am not a part of the president's team in the way that any other cabinet officer is. I have a special and unique responsibility.

There has to be a distance between me and the president. The president-elect said when he nominated me that he recognized that, that the attorney general was different from other cabinet officers.
"President Obama is not, I expect, going to ask me to do anything that would compromise what I should be doing as attorney general," said Holder in a fateful conjecture. "But I want to assure you and the American people that I will be an independent attorney general. I will be the people's lawyer."
> >Follow Noah Rothman (@Noah_C_Rothman) on Twitter
Have a tip we should know? tips@mediaite.com