House Committee Letter Reveals 'Urgency and Alarm' over Potential Russian Invasion of Ukraine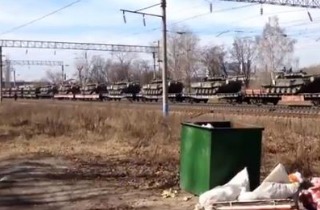 A striking report from CNN defense reporter Barbara Starr reveals that both administration officials and members of Congress are increasingly concerned that a Russian invasion of South and East Ukraine could be imminent.
Starr reported that multiple administration officials have disclosed that the buildup of troops along Ukraine's border suggest that Moscow is preparing to make a border incursion into Ukrainian territory.
The buildup, officials say, is consistent with activities along the Russian border which preceded the invasions of Chechnya and Georgia.
"This has shifted our thinking that the likelihood of a further Russian incursion is more probable than it was previously thought to be," one anonymous administration official revealed.
Their concerns are buttressed by the unclassified version of a letter from Republican members of the House Armed Services Committee. In that letter, obtained by CNN, members expressed "urgency and alarm" over new information coming out of the Ukrainian/Russian border region.
RELATED: Tapper: White House Concerned Russia Could Invade Ukraine as Soon as This Weekend
The committee expressed "deep apprehension that Moscow may invade eastern and southern Ukraine, pressing west to [the Moldovan region of] Transdniestria and also seek land grabs in the Baltics."
US officials believe that more than 30,000 Russian troops and mechanized forces which could be used for a fast-moving invasion are not consistent with the military exercises which Russia claims are the reason for the increased military activity on the border.
Starr reported that Russian troops are "reinforcing" the border and have moved air defense artillery and wheeled vehicles into the region, all of which indicates that Moscow are preparing for an incursion.
[Photo via screen grab ]
— —
> >Follow Noah Rothman (@NoahCRothman) on Twitter
Have a tip we should know? tips@mediaite.com