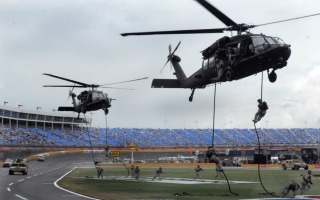 Who says Republicans are against cutting spending from programs their constituents favor? On Friday, the Appropriations Committee in the House of Representatives voted to approve cuts to the Department of Defense's budget which had been spent on recruitment sponsorships to motor sports and fishing. In a betrayal of Shakespearean proportions, as Politico notes, the final blow to the Pentagon's NASCAR budget came from a Republican representative from Georgia.

RELATED: First Lady Michelle Obama Booed At NASCAR Race
Rep. Jack Kingston (R-GA) was the deciding vote on what Politico's David Rogers reports as Rep. Betty McCollum's (D-MN) effort to defund these programs. While it represents a drop in the bucket in terms of total defense spending, these programs were far from cheap:
NASCAR commands the lion's share of these expenditures, estimated at about $80 million in 2012 altogether. And new estimates from the National Guard show that more than $135 million has been spent over the past five years just for the Guard's sponsorship and branding efforts through Hendricks Motorsports in North Carolina and the racing team of star driver Dale Earnhardt Jr.
Rep. McCollum had forced a vote on this measure last year, but it failed on the House floor with 281 – 148 votes. Ohio Republican Rep. Jim Jordan has promised to volunteer as a cosponsor for the bill if any Member attempts to strike this amendment if there is a move to strike this when the House votes on this appropriations next month.
Politico reports that a NASCAR lobbyist immediately began pressuring members like Jordan. "It goes to show this isn't just plain purity in terms of recruitment," Kingston told Politico. "There's some money involved."
I, for one, had no idea that the DoD was investing in NASCAR or Dale Earnhardt Jr. This, among much, much more, is representative of the waste contained within the Defense budget. But these are the easy programs to slash, and the Roger's article gives some impression of how much resistance there are to even these minor cuts.
Massive, bloated weapons system development budgets to revamp America's badly dated armored personnel carriers and fighter jets – with benefiting constituencies in the tens of thousands – are the sacred cows that may never be led to the slaughter.
But it's a start. That fact should not be undervalued. Good for the House Appropriations Committee.
Follow @JonBershad for an unending rain of jokes at the expense of the Defense Department for this boondoggle.
h/t Politico
This article has been edited since its original posting.
Have a tip we should know? tips@mediaite.com