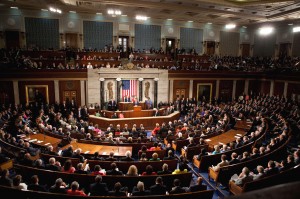 Instead of forcing immediate defunding, House Republicans now appear to be pushing for a one-year delay of the Affordable Care Act instead. A joint statement released by Speaker John Boehner, Eric Cantor, Kevin McCarthy, and Cathy McMorris Rodgers says that the GOP will be pushing for an Obamacare delay, as well as a full repeal of the medical device tax in the health care law.
The decision was formally agreed upon in a closed-door meeting of Republican lawmakers, amending the continuing resolution the Senate passed to fund the government until December, though the likelihood of President Obama agreeing to a delay of the entire law is low.
Here is the full joint statement from Republican leadership:
"The American people don't want a government shut down and they don't want ObamaCare. That's why later today, the House will vote on two amendments to the Senate-passed continuing resolution that will keep the government open and stop as much of the president's health care law as possible.

"The first amendment delays the president's health care law by one year. And the second permanently repeals ObamaCare's medical device tax that is sending jobs overseas.

"Both of these amendments will change the date of the Senate CR to December 15th. We will also vote on a measure that ensures our troops get paid, no matter what.

"We will do our job and send this bill over, and then it's up to the Senate to pass it and stop a government shutdown."
Congressman Justin Amash said on ABC's This Week earlier this month that delaying the health care law would actually be a "favor" for Obama.
Meanwhile, the Republicans wouldn't be completely alone in pushing for an Obamacare delay. Democratic senator Joe Manchin came out in support of delaying the individual mandate as a "very reasonable and sensible" move.
[h/t The Blaze]
— —
Follow Josh Feldman on Twitter: @feldmaniac
Have a tip we should know? tips@mediaite.com
Josh Feldman - Senior Editor