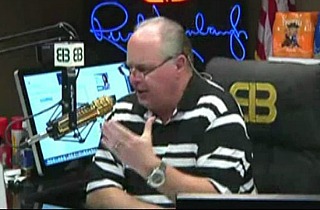 Conservative radio host Rush Limbaugh tore into the political press and President Barack Obama on Monday following the announcement of a deal with Iran to ease sanctions in exchange for concessions about its nuclear program. "Liars believe liars," Limbaugh declared. He went on to say he knows the deal struck is a bad one for the West simply because "Obama did it."

"These people will do anything to distract us from how bad Obamacare is, including let the Iranians get a nuclear weapon down the road," Limbaugh opened his program on Monday. "They're counting on the fact that most people don't care about Iran."
"Obama's counting on the fact people aren't going to care," he went on. Limbaugh added that "most people haven't been told that Iran's trying to get a nuclear weapon" for why this deal may be received positively by the public.
"That's why the media's nothing more — literally nothing more than a PR firm for Barack Obama," Limbaugh continued. "That's the only way that you can understand the media. They're not journalist. They don't do news. They are a giant public relations firm because they're fellow travelers."
RELATED: NY Times Buries The Lede: Anderson Cooper's Ratings Surge At 8PM
"I thought all the talk last week about the 'nuclear option' was about the Democrats killing the filibuster in the Senate," he added. "Now, it turns out that its Obama's foreign policy toward Iran."
He said many are asking how he knows the deal struck is going to be one with negative consequences for the West. "Because Obama did it," Limbaugh answered. "I realize that that's simplistic for a lot of you."
"It's plenty for me," he continued. "What good has he done?"
"Everybody knows that the media's dishonest," the conservative radio host added. "Everybody knows that the media has chosen sides, and yet the media still gets away with being the referee."
"Only a month ago, Obama wanted to go to war to destroy Syria's weapons of mass destruction," Limbaugh observed. "And now, Obama has Iran, who are Syria's masters, he's given them the green light to go ahead with their own weapons of mass destruction program."
Limbaugh concluded that he "firmly" believed that the president has turned to foreign policy to distract from a number of domestic scandals, but had to "go big" with an Iranian nuclear deal to distract from the severity of the controversy surrounding the implementation of the Affordable Care Act.
Listen to the clip below via The Rush Limbaugh Show:
h/t Daily Rushbo
[Photo via screen grab ]
— —
> >Follow Noah Rothman (@NoahCRothman) on Twitter
Have a tip we should know? [email protected]