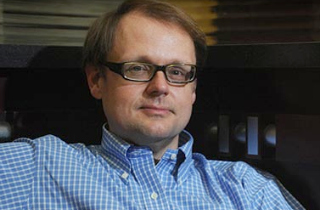 Giving literal meaning to the title of his book (Dispatches from Bitter America), Fox News radio host (and professional outrager) Todd Starnes fired off a bunch of banal political tweets during the Super Bowl.
Normally, when you think of who'd be likely to politicize a major sports event, you'd expect the Media Matters crowd and Keith Olbermann on the left, and the Dana Loesch crowd on the right. But all of those likely suspects (amazingly) remained silent — largely tweeting about the commercials they hated and/or the actual game at hand.
Enter the perpetually-whiney Starnes, who treated America to some riveting political commentary throughout the big game:
How long before Obama calls for the NFL to let women play?

— toddstarnes (@toddstarnes) February 4, 2013
Starnes was still upset over President Obama calling upon the Boy Scouts to end its "no gays" policy, and so naturally, that translated into a bitter remark about football. As Reason's Scott Shackford notes, however, the BSA policy change is likely to happen not because of government force or presidential opinions, but because the culture is (thankfully) shifting and corporate pressure has now grown too strong.
And then there was this non-sequitur:
Just remember – the Super Bowl isn't over until Obama redistributes the winner's points to the loser.

— toddstarnes (@toddstarnes) February 4, 2013
And this whopper of a joke:
Half the lights are not working — much like most of Obama's supporters.

— toddstarnes (@toddstarnes) February 4, 2013
Get it?!?!?! The lights stopped working at the Super Bowl. Just like those lazy, good-for-nothing liberals I cartoonishly imagine encompass the vast majority of Obama supporters!
Starnes also re-tweeted someone else's siren-blaring over the undeniable FACT that dictator Obama plans to destroy American football as we know it by instituting a no-tackle, no-touching policy. For all we know, next year's Super Bowl may actually consist of players wearing yellow waist-flags and tutus:
RT @resisttyranny: If Obama gets his way, this may the last #SuperBowl that isn't flag football. #SB47

— toddstarnes (@toddstarnes) February 4, 2013
Look, Mr. Starnes, a lot of us dislike President Obama's policies… but at some point, you've got to give the Obama Derangement a rest.
— —
>> Follow Andrew Kirell (@AndrewKirell) on Twitter
Have a tip we should know? tips@mediaite.com