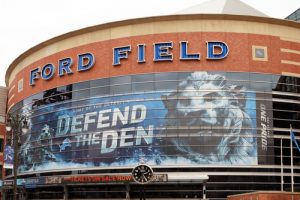 When the Green Bay Packers and the Detroit Lions kickoff tonight in Detroit, there will be just twelve games left in the NFL season. And each, obviously, will have enormous implications.
Depending on the results of the Washington vs. New York game on Sunday afternoon, this could be a win-and-you're-in de facto playoff game between these two NFC North rivals. And no matter what happens in Washington, the winner of this game is the NFC North champion, and will host a playoff game next week.
Green Bay as the hottest team in the NFC, winners of five straight. All appeared lost for the Packers when they were 4-6. But a superb run has brought them to the brink of yet another division title. A win Sunday night, and they'll be opening the playoffs at Lambeau for the fifth time in the past six seasons.
Detroit's last division title came in 1993, back when they played in the now defunct NFC Central. Green Bay has won as many division titles in the last five years as Detroit has in its entire 87 year history (four). This is an important night for the Lions franchise. They were 9-4 two weeks ago, with a two game lead over Green Bay. To blow that lead would be a major setback for a snakebitten franchise.
Kickoff is at 8:30 p.m. ET. The game will be broadcast on NBC. Al Michaels and Cris Collinsworth have the call. NBC will stream the game on its website, or you can use either the NBC Sports app or the NFL Mobile app to watch on your phone or tablet. Those apps can be downloaded from the Apple App Store, Google Play, and the Windows Store. A cable subscription is required for the free stream
[image via James R. Martin – Shutterstock.com]
Have a tip we should know? tips@mediaite.com