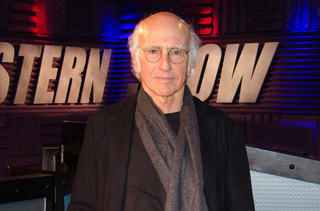 Larry David's series of failures before he co-created Seinfeld and later Curb Your Enthusiasm have been well-documented. But Howard Stern took a perverse pleasure in reminding the comedian about his troubled past when he appeared on his SiriusXM show this week.
As Stern explained, David was hired as a writer for the 1984-1985 season of Saturday Night Live, when Dick Ebersol — as opposed to Lorne Michaels — was running the show. But for an entire season, David did not manage to get one sketch on the air.
"You were very discouraged," Stern told David. "It's hard to believe, but none of your scripts were ever chosen. You were a failure at Saturday Night Live." To add insult to injury, the host pointed out that David was there during the "legendary season" that featured and "all-star cast" including Billy Crystal, Martin Short, Christopher Guest and Julia Louis-Dreyfus, among others. "I thought it was one of their best seasons," he said.
This led to David telling the real-life story that ended up as a story line for George Constanza on Seinfeld. When another sketch of his was cut between dress rehearsal and air, David decided to get in a screaming match with Ebersol five minutes before the show was set to start. "This fucking show stinks!" he said, before quitting and storming out.
Then, thanks to the brilliant idea of his neighbor, Kenny Kramer, David went back to work on Monday and pretended the whole thing never happened. And it worked.
Listen to audio below, via SiriusXM:
[Photo via screengrab]
— —
>> Follow Matt Wilstein (@TheMattWilstein) on Twitter
Have a tip we should know? tips@mediaite.com