Howard Stern Responds To Piers' "King Of All Media" Challenge: "Piers Isn't Even King Of CNN"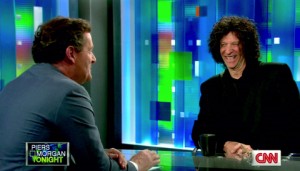 Howard Stern is well aware that Piers Morgan is trying to start a publicity-generating feud with him, and Stern doesn't mind participating, but he does worry that Piers is embarrassing himself with his constant Tweeting and with his delusions of grandeur. In preparation of Piers appearing on Stern's radio show Monday morning at 8am, Stern spent some time today alternating between ridiculing Piers and giving him advice on how to improve his show.
Stern revealed, through his humorous Piers impression, that he thought the British host comes across somewhat pompous, but since Stern likes Piers, he promised to straighten him out on Monday with some of the following advice:
"First of all, stop tweeting so much. . . . [Your tweets are] interesting. Say it on your TV show. . . . The reason the show is going down is because nobody knows who Piers is. Is he a Republican, is he a Democrat? Is he for Obama, is he against Obama? . . . Anyone who is successful on cable news channels, you know exactly where they stand, and they have opinions up the ass."
Stern's sidekick, Robin Quivers, politely informed Stern that CNN's motto is to stay in the middle of the road, to which Stern matter-of-factly stated, well then they're not going to get ratings. From there, Stern was reading some of Piers' tweets where he challenged Stern to determine who is the real "King of All Media." Although Stern tried urging Piers that he should be more worried about competing against Larry King's old ratings than anyone else. Stern continued, "I'm going to clue you in. You're not close to being king of all media. . . . It's me, then 5 billion other people and then you. . . . Piers isn't even king of CNN."
Concluding, Stern gave Piers one final bit of advice: "a whole hour talk to Condoleezza Rice? Here's a clue, no one in America gives a sh*t about Condoleezza Rice." Given that on many days followers of Piers Morgan on Twitter are likely to find more enjoyment and surprise from his Tweets than from that night's CNN show, might media critic Howard Stern be on to something?
Listen to the clip below from The Howard Stern Show:

Have a tip we should know? tips@mediaite.com