Huckabee: Pope's Meeting With Kim Davis is Turning Point in Fight Against Judicial Tyranny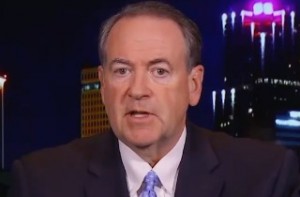 Mike Huckabee, who has prominently supported Kim Davis in her quest to oppose gay marriage, was jubilant on social media today that Pope Francis met with the Kentucky clerk during his American tour last week.
The former Arkansas governor-turned presidential candidate took shots at the "media elites" and others who have simultaneously criticized Davis while cheering for the Pope's statements on topics like climate change and immigration. Huckabee accompanied Davis weeks ago when she was released from jail for contempt of court, and said today that her critics will never understand her crusade for religious liberty.
"The Pope recognized something that the chattering class in Washington and Wall Street will never understand—that Kim Davis followed her conscience and convictions," Huckabee wrote. "The Pope thanked Kim for doing so and congratulated her for her stand."
Pope Francis said last week that government employees have a right to a remedy when service conflicts with their religious beliefs, but it was only recently that his meeting with Davis was confirmed. As part of his victory lap, Huckabee acclaimed the meeting as a turning point in the fight to preserve liberty from judicial tyranny.
"The media mocked and derided millions of Americans who supported Kim's constitutional right to religious liberty," the former pastor said. "It may just be a visit from the Pope that pushes the out of touch political class in Washington to finally stand up to judicial tyranny and for religious liberty."
You can read his Facebook post in it's entirety here: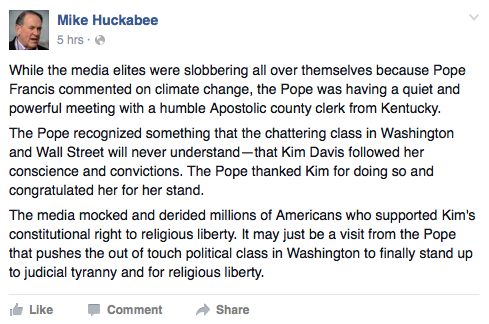 [h/t The Hill]
[Image via screengrab]
— —
>> Follow Ken Meyer (@KenMeyer91) on Twitter
Have a tip we should know? tips@mediaite.com