Huckabee Slams Obama's Own 'War On Women': 'So Much Testosterone' In The Cabinet And 'So Little Estrogen'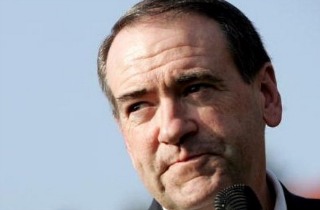 Former Arkansas Governor Mike Huckabee blasted President Obama and other Democrats for waging their own "war on women" while they were criticizing Republicans for the same thing during election season. "But now, a lot of those females who supported Barack Obama are scratching their heads and they're saying 'Woah! How come there is so much testosterone in the Obama cabinet and so little estrogen?'" Huckabee said.
"Because if you look around, all of these high powered appointments that he is making are all white guys," he added.
According to Huckabee, many Americans believed that Republicans were waging a war on women because Obama received more of the female vote than Mitt Romney. Huckabee sarcastically noted that Obama vowed to provide women with "contraceptives and free abortions" but "never promised women would have seats of significance at the table of power."
"But don't worry about positions of authority," Huckabee continued. "They shouldn't be asking for such things."
The president has been criticized from both sides for filling important cabinet positions with, thus far, only white males. Mediaite's Tommy Christopher noted in a recent column,
"The White House points out that 43% of White House positions are held by women, and Sen. Kerry is currently being vetted to replace a national hero for women, Secretary of State Hillary Clinton. That doesn't mean that the President should get a pass on letting Susan Rice bow out, or on learning a lesson from it. His willingness to take heat for a white, male, Republican nominee says something about why he wouldn't do the same for Susan Rice."
Others, however, are supportive of Obama's choices, including a recent MSNBC panel where host Alex Wagner opined, "It must be said, [President Obama] has a fairly decent record given the fact that there are eight women in his Cabinet at present and three of his Cabinet members are minorities."
Mediaite's Noah Rothman noted the panel "displayed remarkable intellectual dexterity by finding any number of things to blame for that condition in the White House other than Obama himself."
h/t POLITICO
—
>> Follow Anjali Sareen (@AnjaliSareen) On Twitter
Have a tip we should know? tips@mediaite.com