HuffPo Deletes Blog Post Calling on Young Women to Cover Up at Football Games
The Huffington Post deleted a blog post from its contributor section that scolded young female college students for not wearing enough clothing during football games.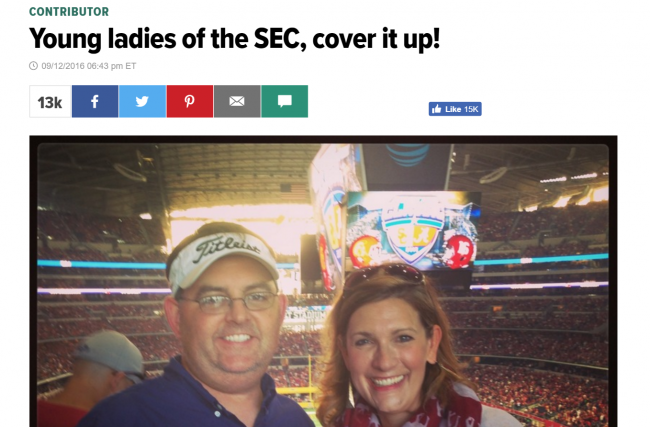 "Young ladies of the SEC, cover it all!" was the title of the blog post written by contributor Rebecca Walden. Walden published her thoughts after she attended the Alabama-USC game in AT&T Stadium and was horrified at how fans of the Southeastern Conference reigning champ were dressed.
"An Alabama student myself not 20 years ago, I remember what fun it was to dress up for football games," she wrote, after USC lost by a whopping 52-6. "My friends and I would scour the racks of Banana Republic and other favorite stores for anything and everything crimson. We'd swap favorite pieces, share accessories and pull together our 'best look' week after week, not only for those cute fraternity boys, but also to cheer on the mighty Tide."
"What we didn't want, and what we never did, was to show up for a college football game looking like we belonged in a Victoria's Secret fashion show," she scolded after the game, USC's worst loss in fifty years. "More than once at that last ballgame, I wished I could have wrapped my elephant scarf around one of you, teetering around on stilettos with your bra straps exposed and operating under the misguided notion that you looked irresistible. I wondered if your mother knew what you were wearing."
"Families attend these games. Little eyes are watching you," she continued. "On behalf of them, and the rest of us who feel embarrassed for you as you walk by, stop baring almost all in the name of game day fashion." She did not mention the equally appalling moment when USC defensive end Jabari Ruffin intentionally stomped on an opposing player's crotch, which USC coach Clay Helton only punished with a laughable half-game suspension against Utah State.
The post began to circulate on social media when it was picked up by HerCampus.com, which ran an opposing op-ed Tuesday morning titled, "Young Ladies of the SEC, Wear Whatever You Want." Hours later, the post was deleted and replaced with a note: "This post from The Huffington Post Contributor Platform is no longer available on our site."
[Image via screengrab]
——
>>Follow Alex Griswold (@HashtagGriswold) on Twitter
Have a tip we should know? tips@mediaite.com