HuffPost on Keeping Trump in Entertainment Section: We Won't Be Seduced by Sideshow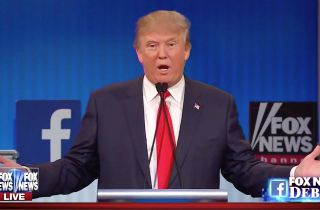 It was one month ago that the Huffington Post moved Donald Trump from the politics section, to entertainment. Even after Trump has managed to maintain high poll numbers, have his moments in the Republican debate, and continue dominating the news with controversial statements, Arianna Huffington's outlet doubled down in a statement today.
When the story first broke, HuffPost's Washington bureau chief Ryan Grim and editorial director Danny Shea said that it was a simple decision for them to not buy into Trump-mania. "We won't take the bait. If you are interested in what The Donald has to say, you'll find it next to our stories on the Kardashians and The Bachelorette," they previously said.
When TVNewser asked Huffington Post to weigh in on their decision after all that's happened, they sent a statement with their intent to double down:
We're more committed to the decision than ever. Over the last month, we've seen our central argument proven right: that Trump is nothing more than a sideshow and not a legitimate presidential contender with serious policy ideas for moving the country forward. The GOP debate was fantastic reality TV, but it came across more like a twisted political version of "American Idol" than a presidential debate. And subsequent coverage reveals a collective media frenzy that's embarrassing to credible media outlets – witness this weekend's pandemonium around Trump's helicopter at the Iowa State Fair. Otherwise serious journalists are being seduced by Trump because of his willingness to say and do outrageous things for headlines and ratings. We're still not taking the bait.
[image via screengrab]
— —
>> Follow Ken Meyer (@KenMeyer91) on Twitter
Have a tip we should know? tips@mediaite.com