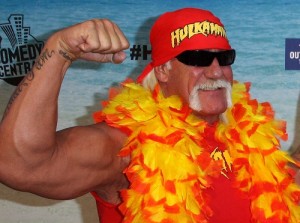 In addition to Gawker Media's ongoing troubles with scandalous postings and equally problematic retractions, they're also contending with litigation in Florida from Hulk Hogan. That's because the website published selections from the wrestler's secret sex tape back in 2012, and he's suing the crap out of them for it. Yet it sounds like Gawker will have a bit of a reprieve now, what with Hogan's removal from the WWE website and all.
According to The Daily Beast, any and all merchandising featuring Hogan's name, likeness and catchphrases has been removed from the wrestling organization's website and online shop. Complex suggests this is due to the recent reappearance of an interview from October 2012, in which Hogan repeated used the n____ word throughout the broadcast.
The word "tirade" has been thrown around, though Hogan's use of the word wasn't out-of-the-blue. It came up in conversation after host DJ Whoo Kid brought up the famous instance of wrestler Booker T calling Hulk Hogan a n____ on live television.
"Well, Booker T used to do that to me, and every time I pull up YouTube there's that famous thing with Booker T and his brother is there and they're all talking trash, and Booker T says, 'I'm coming for ya Hogan, you nigger'—and not 'nigga,' he goes 'nigger,'" Hogan told DJ Whoo Kid.

Hogan then recounted his time living in Miami, and all the rappers he'd bump into like The Game, Lil Wayne, etc.

"And it's still so cool, because the whole time I was down in Miami when I lived there, you know, everybody—I'd walk into the [DJ] booth and all of a sudden I'd bump into this guy and The Game's in the booth, it's all black and he's got his BlackBerry, and I bump into him and he goes, 'What's up, nigga?' and I said, 'Oh, excuse me, bro!' And he says, 'No, it's all cool,'" said Hogan.

He continued: "And everybody down there—Lil Wayne, Birdman—they're all calling me 'nigga,' and then I started sayin' it. And I always said it, but now all of a sudden I get heat when I say it, and they say, 'Hogan, you can't say that,' so I say, 'Why can they say it to me then?'"
However, as TBD points out, others suggest the WWE's dropping of all things Hogan has more to do with the content of a deposition a part of the wrestler's legal case against Gawker Media. In audio that was first reported on by Radar Online and The National Enquirer, Hogan used the term repeatedly when discussing daughter Brooke Hogan's private life during questioning.
Check out the original interview below, courtesy of DJ Whoo Kid:
Update- 1:54 pm EST: Hogan released an apologetic statement today.
[h/t The Daily Beast]
[Image via Shutterstock.com]
— —
>> Follow Andrew Husband (@AndrewHusband) on Twitter
Have a tip we should know? tips@mediaite.com