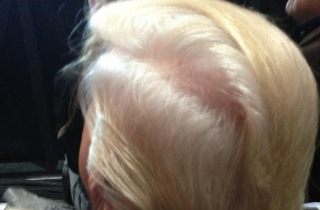 Last month, Ashley Feinberg from Gawker did a deep, deep dive into Donald Trump's hair. She dove deeper than Megyn Kelly ever did, you get me?
In a post titled, "Reporting on Donald Trump's hair might get you sued," and subtitled, "If a libertarian billionaire wants to end you," the Verge put it like this:
The story is a must-read deep dive into what's known as "microcylinder intervention," and how Trump may have paid $60,000, plus constant maintenance fees, to Ivari to preserve his signature comb over.
Ivari International is the hair restoration company that Gawker alleges is behind the costly coif, and on their behalf, a lawyer named Charles J. Harder sent Gawker a letter that demanded the removal of the story and the revelations of its unnamed sources "so that [they] can serve that person with an immediate cease and desist letter to stop the spread of the false Story." If Gawker does not comply, the letter said, they will be subject to punitive action.
Oh, did I mention that Harder is the same lawyer who helped Hulk Hogan win $115 million from Gawker? That, of course, means he's he same lawyer who was bankrolled by billionaire Peter Thiel. Again from the Verge report, "Harder is also known to be overseeing as many as two other lawsuits against Gawker as part of Thiel's elaborate scheme to obliterate the company for reporting factual information not to his liking."
So, did Thiel stick Harder on Gawker again by paying for him to take on Ivari as a client? In their own story about the legal notice, Gawker sort of implied it by saying this, "With the exception of Hulk Hogan, Peter Thiel has refused to identify which other cases against Gawker he has funded with his own money."
Then, they quoted Forbes, which wrote this, "Harder didn't even know who was funding the litigation until FORBES broke the news in May. What he surely did know: The checks cleared. And there was presumably more where that came from, if he could find more cases."
Essentially, then, it's fair to guess that Thiel has something to do with it.
[image via screengrab]
For more from Lindsey, head to Twitter or Facebook.
Have a tip we should know? tips@mediaite.com