Hypocrite 'Advocacy' Group Slams Journalist: 'You're Making an Embarrassment of Your News Station'
The reporters with ABC-15 in Phoenix, Arizona were rudely greeted by two employees at the Advocates for Individuals with Disabilities Foundation center in Arizona when they started poking around to ask questions. "Your story is garbage news. And your making an embarrassment of your news station."
To understand why, you need to go back three months in the story, to when investigative reporter Dave Biscobing began looking into the foundation — aid.org — who calls themselves "Civil Rights Champions" on behalf of people with disabilities. Biscobing and his team found that the group has sued hundreds of businesses in Arizona alone this year on the small minutiae of parking lot accessibility: the proper heights of handicap parking signs, measurements that legally must be met, etc. They find businesses negligent of the itty-bitty rules and they sue — for huge sums of money.
But where things get hilarious and dark in the story is when Biscobing brilliantly visits the AID center for himself… only to find a litany of the same violations they sue everyone else for. "There we also found faded paint, and a ramp blocking overrunning — and blocking — the access door," says Biscobing in the voiceover package.
After confronting two representatives of the foundation, who attempt to argue that is it "not a building of public accommodation" the mood suddenly switches. "AID must be worried about us checking," Biscobing continues, as footage reveals that they are now being hysterically followed by an AID employer as they poke around the parking spots, filming them with her phone…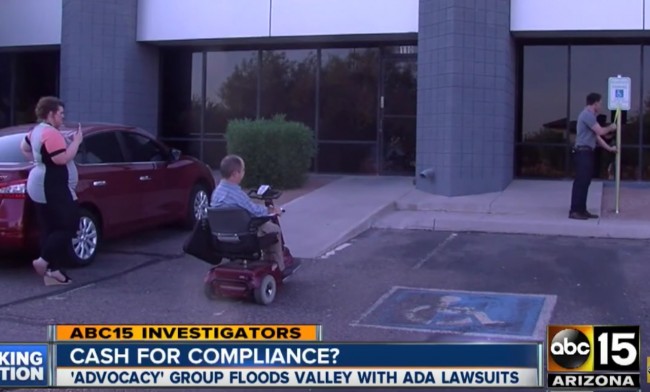 "…until she broke her shoe," says Biscobing in the report, at which point the employee was forced to follow them in her car while filming out the window. What transpires is dialogue out of a Wes Anderson film: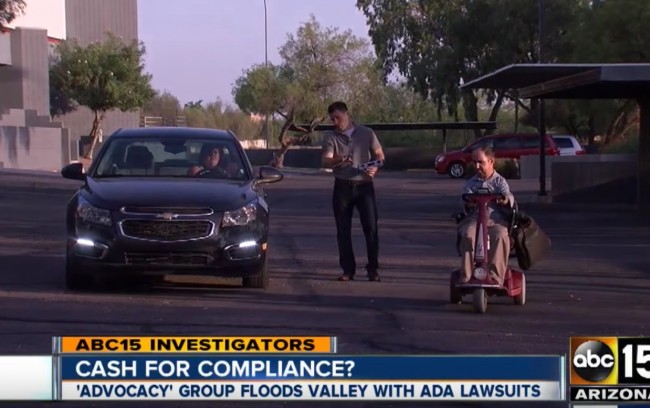 When Biscobing confronts the representatives again — "You brought people to these buildings; you don't think you should hold yourselves to the same standard of the places you guys are suing?" — he gets told off in no uncertain terms.
It's definitely not your average local news report, so credit to Biscobing and the ABC-15 team in Phoenix for some hard-hitting journalism and for giving me a huge laugh at the visual of the driving-while-filming AID employee with broken shoe.
Watch the report above via ABC-15 Phoenix.
[h/t FTVLive]
Have a tip we should know? tips@mediaite.com