'I Don't Know That There's Evidence:' Kelly Stops Short of Connecting Bannon, White Supremacy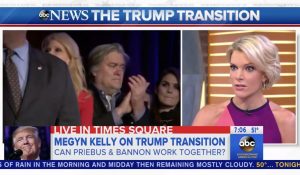 Much has already been made of President-elect Donald Trump's first appointments to his White House administration. While RNC Chair Reince Priebus' promotion to Chief of Staff is viewed largely as a safe choice and one that bridges the gap with party establishment figures, Trump also tapped Stephen Bannon as chief strategist and senior counselor.
That second move continues to ruffle feathers, given Bannon's controversial past.
Technically, Bannon is both the Trump campaign CEO and executive chairman of Breitbart News; it is in that later distinction where much of the controversy lies, with many alleging Breitbart's editorial ties to white nationalism or the not-quite-correct allegations of it being a safe haven for the "alt-right."
Fox News anchor Megyn Kelly was asked about it directly on Good Morning America Tuesday by George Stephanopoulos.
"What do you say to those critics who say this is bring white supremacists into the White House?" asked Stephanopoulos.
"I don't know that there's evidence of that," replied Kelly.
"The Breitbart headlines?" Stephanopoulos interrupted, referencing several previous headlines on the right-wing site that have been oft-cited in recent days, including "The solution to online 'harassment' is simple: Women should log off," "Trannies whine about hilarious Bruce Jenner billboard," and "Would you rather your child had feminism or cancer?"
"The Breitbart headlines, his defenders — I mean, they're absolutely controversial — but what his defenders say is he's not responsible for every single headline that went up on Breitbart while he was the executive chairman," Kelly told Stephanopoulos Tuesday, "and that that website was known as being provocative."
"So they're looking for clicks," Kelly continued about Breitbart.
Kelly was on GMA to promote her new book "Settle For More," also using the appearance to discuss the allegations of sexual misconduct by Roger Ailes, the former CEO and Chairman of Fox News.
Watch above via Good Morning America.
—
[image via screengrab]
Have a tip we should know? tips@mediaite.com