If Conservatives Don't Like What His Reverends Are Saying, Maybe Obama Should Just Stop Going To Church
If Conservatives Don't Like What His Reverends Are Saying, Maybe Obama Should Stop Going To Church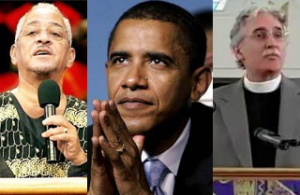 Sometimes it seems like every time President Obama goes to church, it ends up biting him in the ass. This Easter, the president found himself under attack after attending a service at St. John's Church where Reverend Luis Leon spoke out against the "captains of the religious right" for "calling back" African-Americans, homosexuals, women and immigrants. The event was just the latest in which President Obama unwittingly became associated with controversial rhetoric by doing what religious constituents on both sides of the aisle have long encouraged him to do: attending church. Perhaps the best solution would be for the president to give up God altogether.
Of course, long before this most recent incident with Reverend Leon, the reverend most closely associated with President Obama went by the name of Wright. Reverend Jeremiah Wright's fiery sermons in Chicago, which infamously contained the phrase "God damn America," threatened to derail Obama's 2008 presidential campaign. It was only after Obama delivered his game-changing speech on race that he was able to put the Wright controversy behind him and regain his momentum in the campaign.
Obama's close relationship with Wright was undeniable. Wright performed the wedding of Barack and Michelle Obama. It was Wright's words that inspired the title of Obama's second book The Audacity of Hope. But after the controversy erupted during the 2008 campaign, the Obamas withdrew their membership from Wright's Trinity United Church of Christ.
Once he was elected, President Obama's reluctance to pick and attend a new church was evident. He announced that he would be searching for a new house of worship, but ultimately did not pick a new church until June of 2009, when he said he would be using the non-denominational Evergreen Chapel at Camp David.
As a young man trying to break into politics in Chicago, it may have been beneficial for Obama to join Wright's church. But once he was elected president, there were signs that he was returning to his earlier views on religion. In The Audacity of Hope, Obama writes about the lack of a single religious path in his childhood:
"I was not raised in a religious household. For my mother, organized religion too often dressed up closed-mindedness in the garb of piety, cruelty and oppression in the cloak of righteousness. However, in her mind, a working knowledge of the world's great religions was a necessary part of any well-rounded education. In our household the Bible, the Koran, and the Bhagavad Gita sat on the shelf alongside books of Greek and Norse and African mythology.

On Easter or Christmas Day my mother might drag me to church, just as she dragged me to the Buddhist temple, the Chinese New Year celebration, the Shinto shrine, and ancient Hawaiian burial sites. In sum, my mother viewed religion through the eyes of the anthropologist; it was a phenomenon to be treated with a suitable respect, but with a suitable detachment as well."
This varied religious background has often been problematic for Obama. Because of the name he inherited from his father and his time spent at a Madrasa in Indonesia, an inordinate number of Americans falsely believe he's a Muslim. His continued attempts to embrace Christianity can come off as an attempt to counter that false narrative rather than a fundamental belief. If his true beliefs do hew closer to atheism, he no doubt knew that it would be even more impossible to get elected president in America as a non-believer than it was to get elected with the middle name Hussein.
Now that President Obama's political career is over and he will never again run for office, why should he continue attending church at all? Perhaps, like many non-believing loyal partners across the country, he goes to services on major holidays for the sake of his wife or children, with the act representing more of a family tradition than a spiritual experience.
But after the controversies surrounding Reverends Wright and Leon, is it possible that President Obama's church-going is doing him more harm than good? Especially if he doesn't believe the fundamentals of what they are preaching, should he be forced to answer for the controversial things they say?
In 2009, Obama notably became the first president to include atheists in his inauguration address, declaring, "We are a nation of Christians and Muslims, Jews and Hindus, and non-believers." Without a whole lot left to lose, now may be the time for Obama to become one of those "non-believers" and give up on the whole church thing once and for all.
—
>> Follow Matt Wilstein (@TheMattWilstein) on Twitter
Have a tip we should know? tips@mediaite.com