UPDATE: 'I'm Deeply Flawed': Anthony Weiner, AKA 'Carlos Danger,' Now Admits Still Sexting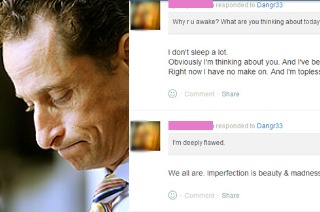 "Exclusive: Anthony Weiner is a sexual predator luring his victims," blares the inflammatory headline at the gossip website, TheDirty.com. A new set of images from a chat session in which Weiner engaged in sexually explicit conversations with another woman from last summer threaten to derail Weiner's campaign for mayor of New York City. In a statement responding to the allegations, Weiner admitted that the chat records were authentic. However, he said that he and his wife are now focused on moving forward with their lives.

"My source is solid," the bombshell post at TheDirty.com begins. "She really thought Anthony Weiner and her were in love, they spoke on the phone daily multiple times a day for 6 months. Anthony Weiner played with her emotions and mind. Most calls were phone sex."
RELATED: Former Congressman Anthony Weiner Announces His Candidacy For NYC Mayor
"He promised her many things including a condo in Chicago (1235 S. Prairie Ave) where they were planning to meet up to have sex," the post continues. "Anthony Weiner has a shoe fetish, particularly heels."
The images taken from Facebook and the social network Formspring are blurred but are alleged to be Weiner going by the handle "Carlos Danger."
The August, 2012, screen shots feature Weiner's conversations with an anonymous woman. "Weiner's blank avatar in one chat matches his blank avatar in images posted by Radar Online during the 2011 scandal that ended his Congressional career," BuzzFeed reports.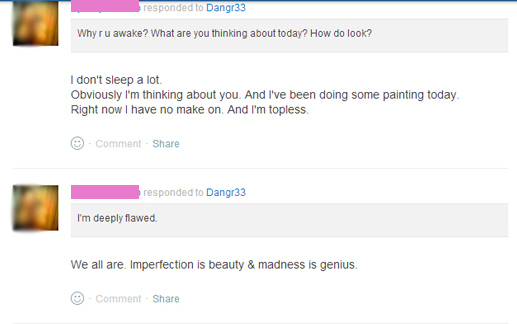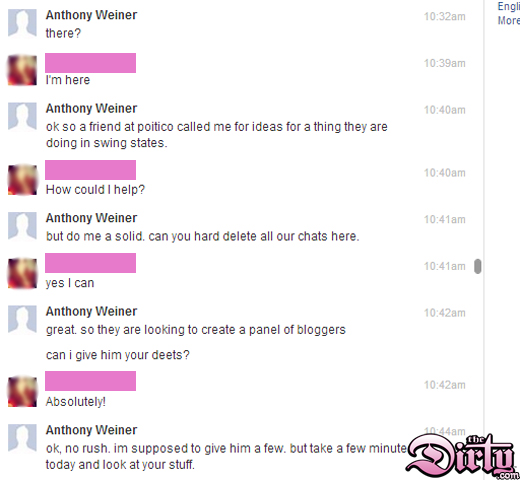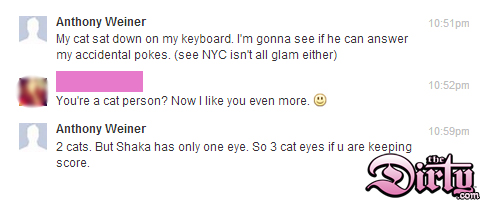 BuzzFeed contacted Weiner's spokeswoman, Barbara Morgan, at 7:21 a.m. Tuesday about the postings, which went online Monday, asking whether they are real. She responded before 9:00 a.m. and then replied three more times that she would respond soon.
h/t BuzzFeed
UPDATE: In a statement, Anthony Weiner has admitted that the texts and images are his:
"I said that other texts and photos were likely to come out, and today they have. As I have said in the past, these things that I did were wrong and hurtful to my wife and caused us to go through challenges in our marriage that extended past my resignation from Congress. While some things that have been posted today are true and some are not, there is no question that what I did was wrong. This behavior is behind me. I've apologized to Huma and am grateful that she has worked through these issues with me and for her forgiveness. I want to again say that I am very sorry to anyone who was on the receiving end of these messages and the disruption that this has caused. As my wife and I have said, we are focused on moving forward."
Watch the report from Fox below:
> >Follow Noah Rothman (@NoahCRothman) on Twitter
Have a tip we should know? tips@mediaite.com