'I'm Sorry': Scarborough Appears to Publicly (and Comically) Apologize to Mika on Twitter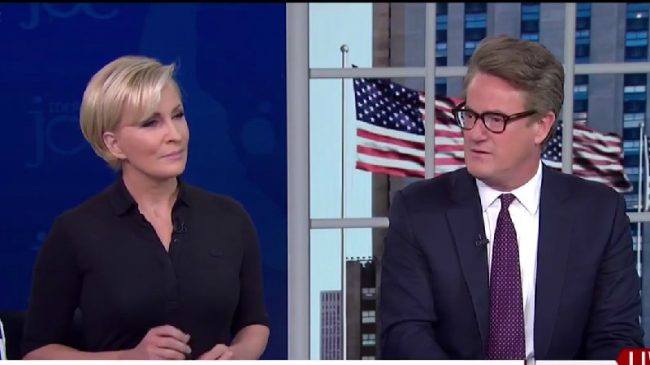 It appears that Morning Joe co-host Joe Scarborough has had some time to think about what he said this morning to his colleague Mika Brzezinski and is now asking for forgiveness.
In case you missed it, Scarborough got a bit testy with Mika during a panel discussion revolving around Ivanka Trump's role in the White House. After Brzezinski expressed some disbelief over what she felt was Scarborough comparing Ivanka with Bobby Kennedy, Joe tore into her on-air.
"You don't have to be so snotty. I was about to say, you didn't let me get it out. You don't have to be so rude," he snapped. "The fact of the matter is that they are not Bobby Kennedy as I was about to say but you wanted to get your cheap shot in so you got your cheap shot in. No I am not saying Jared and Ivanka are Bobby Kennedy."
Well, tonight, after what was presumably some soul-searching — and Mika giving him the business — the ex-GOP congressman took to Twitter to apologize:
Me: I'm sorry
Mika [Pulling a tooth out of her fist]:
Don't sweat it.

~Scene~

— Joe Scarborough (@JoeNBC) April 27, 2017
Shortly after posting the tweet, Scarborough acted as if he was actually apologizing for actions on the rugby field.
This morning?? I was talking about 5 minutes ago on the rugby field. https://t.co/2bqw1CvCuD

— Joe Scarborough (@JoeNBC) April 27, 2017
Hours before Joe posted his apologetic tweet, Brzezinski posted a short, cryptic message of her own on Twitter:
Everybody please listen

— Mika Brzezinski (@morningmika) April 26, 2017
Take from that what you will.
[image via screengrab]
—
Follow Justin Baragona on Twitter: @justinbaragona
Have a tip we should know? tips@mediaite.com