'I'm Tired of Being Against Things!' Beck Calls for Unity in Values Voter Speech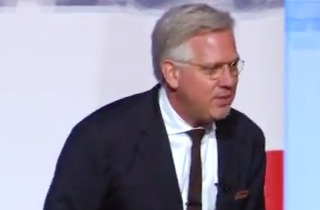 Glenn Beck spoke today at the Values Voter Summit, and it was noteworthy for two big reasons; one, it eschewed partisan politics for calls for unity instead, and two, a significant portion of it was Beck telling stories to show how Americans can learn from history.
Beck was aided in his speech by a number of props, including a copy of the New Testament, a bloodied napkin from Adolf Hitler's assassination attempt, and the microphone used by Tokyo Rose during World War II.
Beck argued that Americans are so distracted by petty arguments and exploiting differences that no one wants to find areas of agreement. But just beyond asking people whether they are fueled by love or hate, Beck spoke of what people who are very well-off should be doing with their money:
"I'm mad as hell. My country is being squandered, is being stolen. Our values, what are our values anymore? What are they? For too many people, it's profit. I'm the king of profit. I love profit. I love the capitalist system! I get it!… Spending it on other people, investing it in people, sharing it because it's in your heart, that's gonna open up doors to you and words to you that you never imagined possible."
Beck declared, "I'm tired of being against things!" He called on everyone to "stop the bickering back and forth" and unite in facing the real threats facing the United States.
Another noteworthy part of Beck's speech was when he spoke of "what a blessing Barack Obama has been to us." Yes, you're reading that right:
"I'm a better man because he's president today… While I wish it wouldn't have happened, and I'm not rooting for somebody else that maybe was his Secretary of State… we are all stronger because of it, if we don't let hatred corrupt what we have."
Watch Beck's full speech here:
[image via screengrab]
— —
Follow Josh Feldman on Twitter: @feldmaniac
Have a tip we should know? tips@mediaite.com
Josh Feldman - Senior Editor